Hockenheim F3 Euro: Rosenqvist storms to double pole
| | |
| --- | --- |
| By Jamie O'Leary | Friday, October 19th 2012, 15:50 GMT |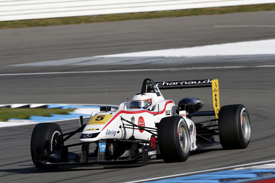 Felix Rosenqvist grabbed a dominant double pole position for this weekend's Formula 3 Euro Series finale at Hockenheim, while points leader Daniel Juncadella did his title hopes no harm by taking a pair of seconds.
Nobody could live with the pace of Mucke Motorsport man Rosenqvist.
The 20-year-old Swede hit the front inside five minutes in a time of 1m35.128s, and gradually brought his times down to take pole for Sunday's final race of the season in 1m34.047s in his Dallara-Mercedes.
Rosenqvist's superiority over Juncadella was such that his second-fastest lap, which was enough to net him pole for Saturday's first race, was also quicker than the Spaniard's best.
Prema Powerteam driver Juncadella qualified one place ahead of his chief title rival, Mucke's Pascal Wehrlein, for both of the longer 40-minute races this weekend. Juncadella needs only to finish ahead of the German in one of them to secure the title.
Wehrlein, who lies 35 points behind Juncadella with 60 still on the table, lost his hopes of pole late on as he ran wide at the Nord Kurve and dislodged his front wing.
The third driver in realistic title contention, Prema's Raffaele Marciello, will start the two races from fourth and eighth spots.
Carlin driver Will Buller, who needs to win all three races and hope that Juncadella musters no more than four points all weekend, took ninth and 11th spots.
A number of series interlopers are taking part at Hockenheim. The best of these in qualifying was Fortec's Alex Lynn, fourth overall (for race three) and eighth on the race one grid.
Gerhard Berger's nephew Lucas Auer, who is making his Euro Series debut along with the Van Amersfoort squad, was equally impressive. This season's German F3 runner-up will start sixth in both races.
GP2 driver Felipe Nasr, last year's British F3 champion, will start both races from 14th spot.
The grid for race two will be set by the race one finishing order, with the top eight drivers reversed.
Race one starting order:

Pos  Driver               Team/Car                   Time       Gap
 1.  Felix Rosenqvist     Mucke Dallara-Merc         1m34.062s
 2.  Daniel Juncadella    Prema Dallara-Merc         1m34.452s  + 0.390s
 3.  Pascal Wehrlein      Mucke Dallara-Merc         1m34.654s  + 0.592s
 4.  Raffaelle Marciello  Prema Dallara-Merc         1m34.777s  + 0.715s
 5.  Carlos Sainz Jr      Carlin Dallara-VW          1m34.798s  + 0.736s
 6.  Lucas Auer           Van Amersfoort Dallara-VW  1m34.838s  + 0.776s
 7.  Emil Bernstorff      Ma-con Dallara-VW          1m34.841s  + 0.779s
 8.  Alex Lynn            Fortec Dallara-Merc        1m34.859s  + 0.797s
 9.  Tom Blomqvist        Ma-con Dallara-VW          1m34.954s  + 0.892s
10.  Felix Serralles      Fortec Dallara-Merc        1m35.035s  + 0.973s
11.  Will Buller          Carlin Dallara-VW          1m35.097s  + 1.035s
12.  Sven Muller          Prema Dallara-Merc         1m35.194s  + 1.132s
13.  Felipe Nasr          Carlin Dallara-VW          1m35.211s  + 1.149s
14.  Pipo Derani          Fortec Dallara-Merc        1m35.338s  + 1.276s
15.  Michael Lewis        Prema Dallara-Merc         1m35.396s  + 1.334s
16.  Lucas Wolf           URD Dallara-Merc           1m35.523s  + 1.461s
17.  Dennis van de Laar   Van Amersfoort Dallara-VW  1m35.722s  + 1.660s
18.  Luis Sa Silva        Angola Dallara-Merc        1m36.065s  + 2.003s
19.  Sandro Zeller        Zeller Dallara-Merc        1m36.128s  + 2.066s
20.  Andrea Roda          Zeller Dallara-Merc        1m36.171s  + 2.109s

Race three starting order:

Pos  Driver               Team/Car                   Time       Gap
 1.  Felix Rosenqvist     Mucke Dallara-Merc         1m34.047s
 2.  Daniel Juncadella    Prema Dallara-Merc         1m34.425s  + 0.378s
 3.  Pascal Wehrlein      Mucke Dallara-Merc         1m34.471s  + 0.424s
 4.  Alex Lynn            Fortec Dallara-Merc        1m34.551s  + 0.504s
 5.  Carlos Sainz Jr      Carlin Dallara-VW          1m34.584s  + 0.537s
 6.  Lucas Auer           Van Amersfoort Dallara-VW  1m34.700s  + 0.653s
 7.  Tom Blomqvist        Ma-con Dallara-VW          1m34.744s  + 0.697s
 8.  Raffaelle Marciello  Prema Dallara-Merc         1m34.766s  + 0.719s
 9.  Will Buller          Carlin Dallara-VW          1m34.811s  + 0.764s
10.  Emil Bernstorff      Ma-con Dallara-VW          1m34.815s  + 0.768s
11.  Felix Serralles      Fortec Dallara-Merc        1m34.871s  + 0.824s
12.  Sven Muller          Prema Dallara-Merc         1m34.961s  + 0.914s
13.  Lucas Wolf           URD Dallara-Merc           1m35.090s  + 1.043s
14.  Felipe Nasr          Carlin Dallara-VW          1m35.168s  + 1.121s
15.  Pipo Derani          Fortec Dallara-Merc        1m35.210s  + 1.163s
16.  Michael Lewis        Prema Dallara-Merc         1m35.229s  + 1.182s
17.  Dennis van de Laar   Van Amersfoort Dallara-VW  1m35.551s  + 1.504s
18.  Luis Sa Silva        Angola Dallara-Merc        1m36.038s  + 1.991s
19.  Andrea Roda          Zeller Dallara-Merc        1m36.041s  + 1.994s
20.  Sandro Zeller        Zeller Dallara-Merc        1m36.051s  + 2.004s