Da Costa, Korjus to compete in F3 Cup race at Snetterton
| | |
| --- | --- |
| By Ben Anderson and Marcus Simmons | Monday, October 15th 2012, 10:37 GMT |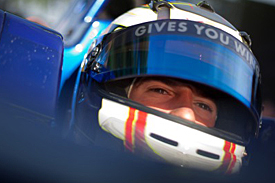 Antonio Felix da Costa and Kevin Korjus will take part in an F3 Cup race at Snetterton later this month to make themselves eligible for the Macau Grand Prix.
Red Bull Junior driver da Costa and fellow Formula Renault 3.5 race winner Kevin Korjus will drive with British F3 squads Carlin and Double R Racing respectively in the championship, which is a domestic UK series for older F3 machinery.
To race at Macau, drivers must have competed in an F3 race during the same calendar year.
Previously they had to contest an FIA-rules race, but with a lack of cars built for the current regulations, Macau organisers have relaxed that requirement.
Additionally, clashes between the FR3.5 and F3 calendars have forced da Costa and Korjus to race at Snetterton on October 27-28.
Portuguese da Costa, who was also a GP3 title contender this season, will race the Dallara-Volkswagen F308 campaigned by Jazeman Jaafar in the 2011 British F3 Championship.
Korjus will drive the Dallara-Mugen Honda raced by Duvashen Padayachee in this year's British F3 National Class.
They will run to F3 Cup rules on tyres, ride height and fuel, although they will compete in an invitation class as the series only usually allows cars built up to 2007.
F3 Cup coordinator Simon Davey said: "We're always pleased to welcome higher-profile entries to the F3 Cup and we're looking forward to having them at Snetterton.
"It should provide a fantastic benchmark for our regular teams and drivers. We just have to be careful that it doesn't inadvertently upset the results, because we have a number of title battles going down to the wire."
Both teams have pledged not to upset the series' title battle. Double R boss Anthony 'Boyo' Hieatt said: "We've promised not to interfere with anything."