Christian Horner urges Red Bull to banish thoughts of 2012 F1 title
| | |
| --- | --- |
| By Jonathan Noble | Sunday, October 14th 2012, 16:31 GMT |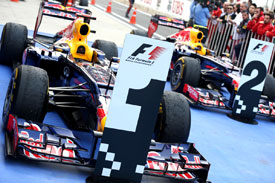 Red Bull has been urged to banish thoughts of its world championship chances, as team principal Christian Horner says it cannot afford to ease off in its push for wins.

Although Sebastian Vettel's third consecutive victory has sealed his place as favourite for the 2012 crown, Horner thinks the situation is far tighter than many believe.

And he is pushing his outfit to not waste any time pondering its title prospects - and instead focus all its efforts on building on the momentum it now has.

"We've hit a purple patch of form at the right time, but it is important we retain that now," said Horner, after Vettel moved into a six point lead over Fernando Alonso in the drivers' standings.

"There is still a long way to go. There are different types of venue coming up, but what has been satisfying is that we have been quick in all conditions, whether it be over a single lap or the race."

Horner says the strength of his team this year has been in not getting distracted from its efforts over individual weekends by worrying about its title prospects - especially when Alonso built up a healthy lead earlier this campaign.

He is adamant though that the approach should not change – even if it is now his outfit that is in the driving seat.

"Our focus is not on the third title or either championship at the moment. Our focus moves away from Korea now, to India, and we take one race at a time and try to extract the maximum that we can.

"We have had a great day in the constructors' championship today, we have moved into a healthy lead, but that can disappear quickly. And in the drivers' [championship] we are only six points ahead having come from a long way back. There are still 100 points to play for..."

Horner is delighted, though, that Red Bull has hit the best form of its season at the perfect time to try and nail the world championship.

"We have been trying to get on top of understanding the regulation changes all year," he said. "We have been pushing since Australia, but it has started to move in the right direction now.

"We take nothing for granted though; we had circuit that we thought would not suit us at Spa and Monza. We got a result out of Spa, we didn't at Monza.

"At the last three we have performed strongly at different types of circuit: from a street circuit, to Suzuka with fast flowing bends, to a circuit of two halves here.
"That has been encouraging and hopefully puts us in good stead for the next few races."