Kimi Raikkonen only cares about title, not final standing positions
| | |
| --- | --- |
| By Jonathan Noble and Simon Strang | Thursday, October 11th 2012, 09:27 GMT |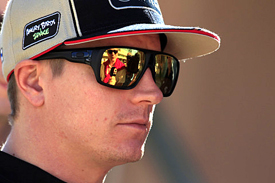 Kimi Raikkonen is not bothered about where he finishes in the standings this year if he is not world champion.
The Finn, who returned to Formula 1 with Lotus at the start of the year, is third in the drivers' table 37 points behind leader Fernando Alonso, having finished on the podium six times so far in the campaign.
"It doesn't matter if I'm second or tenth," he said. "It makes no difference if you don't win.
"We will see. If you had said this [third in the championship] at the beginning of the year we would have taken it but once you do a little bit well, you expect to do better and you want to do a lot better also. We will keep on trying and hopefully can improve."
He then joked: "I would rather be out of second or third place so I don't have to go to the prize-giving."
Lotus is bringing a raft of updates to Korea, including a new 'Coanda-effect' exhaust, but Raikkonen said that the team would only know how much benefit they had brought after free practice.
Asked if the team was optimistic he said: "Yeah but then you have to be don't you, otherwise you wouldn't bring the new stuff. But we will see tomorrow.
"We know the numbers from the windtunnel and the other calculations but until we run anything we can't really know what it is going to bring us," he added. "Hopefully it will work as we expect and it will improve our position in the order but we should know after practice tomorrow."