Lotus will delay the return of its double-DRS
| | |
| --- | --- |
| By Jonathan Noble | Sunday, October 7th 2012, 01:34 GMT |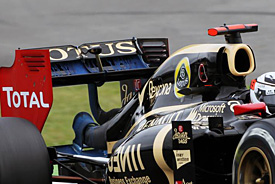 Lotus is set to postpone further use of its double-DRS, after failing to get it to work as well as it had hoped at the Japanese Grand Prix.
The Enstone-based team returned from the summer break with high hopes the design, which was tried for the first time in Germany, could hand it a good straightline speed advantage.
However, it could not race it in Belgium because of bad weather in practice and it did not get enough confidence with it at Suzuka to stick with it this weekend either.
Now, with a big update package for the E20 coming in Korea, the team has elected to not use it there either - and there is a chance it may not return at all during this campaign.
Team principal Eric Boullier told AUTOSPORT: "I don't think in Korea the layout is bringing any gains with it, so we will concentrate on some other updates there."
When asked if it was possible the device may not return at all this year, so more work could be done over the winter, Boullier said: "If it is the case, it will not be because we don't trust this device is working or not.
"It is probably because we have to focus on some other developments which have higher priority."
Although the Mercedes-style double-DRS that is activated by ducts being covered by a moveable wing is banned for 2013, the passive Lotus-style system remains legal - so any development work on its current system could have a benefit for next year.
Boullier said the biggest issue the team faced was not the device's legality but whether or not it could get it to operate consistently enough so drivers did not risk losing downforce in high-speed corners.
"It is not being legal or illegal - it is about making it work," he said. "We have not retained it here because we do not believe there is enough of a gain in the race."