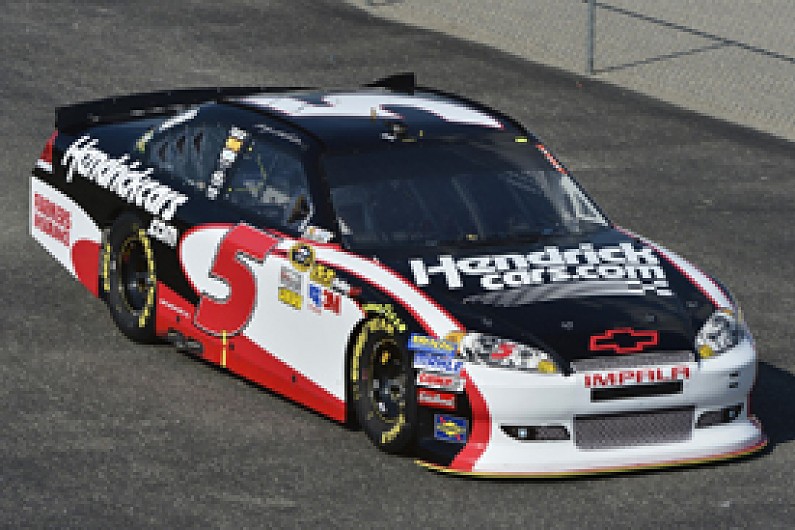 Kasey Kahne claimed his third pole position of the season in qualifying for Sunday's NASCAR Sprint Cup Chase round at Talladega.
The Hendrick Motorsports driver beat the previous benchmark set by Stewart-Haas Racing's Ryan Newman with a second flying lap of 50.017 seconds at an average speed of 191.455 mph.
It gave Kahne's outfit a pole position sweep at the 2.66-mile track this year following Jeff Gordon's in May.
"These guys do a great job - a lot of Hendrick engines towards the front of the pack tomorrow," noted Kahne. "We have a strong car. It's nice to get my first pole at Talladega. That's a tough track and we'd never done that, so it felt good.
"We'll see how it runs tomorrow but it ran great yesterday and really well again today.
"I'm just going to race all day like I have any other time here. It kind of changed my way of doing it a couple of years ago. You can't control all of it but you can definitely control some of it.
"We'll try to stay out of trouble, stay in the right position, hopefully place ourselves in a good spot late and have a shot at winning the race."
Kahne denied Newman his 50th Cup career pole but the Stewart-Haas driver will line up right in front of his team-mate Tony Stewart on Sunday's grid. The reigning champion qualified fourth behind the Michael Waltrip Racing Toyota of two-time Talladega winner Clint Bowyer.
Roush Fenway's Greg Biffle qualified fifth as the best Ford, beating the Hendrick Chevrolet of Gordon.
Biffle's team-mate Carl Edwards will start right behind him from seventh and beside the sister Ford Fusion of Wood Brothers' Trevor Bayne, who was the fastest of the non-guaranteed drivers in eighth.
Martin Truex Jr made it two MWR Toyotas in the top 10 with the ninth fastest lap. His boss Michael Waltrip also qualified strongly in 11th, as he returns to drive his outfit's #55 car this weekend.
Jimmie Johnson, hoping for his first finish of the year in a restrictor-plate event, will start 17th and five places ahead of Chase leader, Penske's Brad Keselowski.
Meanwhile Denny Hamlin was slowest among the title contenders, finishing 23rd fastest in his #11 Joe Gibbs Racing Toyota.
Pos  Driver                Team/Car                     Time     Gap
 1.  Kasey Kahne           Hendrick Chevrolet           50.017s
 2.  Ryan Newman           Stewart-Haas Chevrolet       50.098s  + 0.081s
 3.  Clint Bowyer          Waltrip Toyota               50.105s  + 0.088s
 4.  Tony Stewart          Stewart-Haas Chevrolet       50.138s  + 0.121s
 5.  Greg Biffle           Roush Fenway Ford            50.148s  + 0.131s
 6.  Jeff Gordon           Hendrick Chevrolet           50.176s  + 0.159s
 7.  Carl Edwards          Roush Fenway Ford            50.193s  + 0.176s
 8.  Trevor Bayne          Wood Brothers Ford           50.208s  + 0.191s
 9.  Martin Truex Jr       Waltrip Toyota               50.225s  + 0.208s
10.  Sam Hornish Jr        Penske Dodge                 50.234s  + 0.217s
11.  Michael Waltrip       Waltrip Toyota               50.277s  + 0.260s
12.  Dale Earnhardt Jr     Hendrick Chevrolet           50.287s  + 0.270s
13.  Kyle Busch            Gibbs Toyota                 50.289s  + 0.272s
14.  Joey Logano           Gibbs Toyota                 50.296s  + 0.279s
15.  Matt Kenseth          Roush Fenway Ford            50.302s  + 0.285s
16.  Paul Menard           Childress Chevrolet          50.312s  + 0.295s
17.  Jimmie Johnson        Hendrick Chevrolet           50.321s  + 0.304s
18.  Aric Almirola         Petty Ford                   50.321s  + 0.304s
19.  Casey Mears           Germain Ford                 50.353s  + 0.336s
20.  Marcos Ambrose        Petty Ford                   50.355s  + 0.338s
21.  Kevin Harvick         Childress Chevrolet          50.370s  + 0.353s
22.  Brad Keselowski       Penske Dodge                 50.459s  + 0.442s
23.  Denny Hamlin          Gibbs Toyota                 50.467s  + 0.450s
24.  Jamie McMurray        Earnhardt Ganassi Chevrolet  50.469s  + 0.452s
25.  David Ragan           Front Row Ford               50.502s  + 0.485s
26.  Jeff Burton           Childress Chevrolet          50.519s  + 0.502s
27.  Juan Pablo Montoya    Earnhardt Ganassi Chevrolet  50.565s  + 0.548s
28.  Regan Smith           Furniture Row Chevrolet      50.582s  + 0.565s
29.  Kurt Busch            Phoenix Chevrolet            50.660s  + 0.643s
30.  David Stremme         Inception Toyota             50.681s  + 0.664s
31.  Terry Labonte         FAS Lane Ford                50.722s  + 0.705s
32.  David Gilliland       Front Row Ford               50.740s  + 0.723s
33.  Josh Wise             Front Row Ford               50.761s  + 0.744s
34.  Michael McDowell      Parsons Ford                 50.764s  + 0.747s
35.  Timmy Hill            NEMCO Toyota                 50.848s  + 0.831s
36.  Travis Kvapil         BK Toyota                    50.856s  + 0.839s
37.  Joe Nemechek          NEMCO Toyota                 50.936s  + 0.919s
38.  Landon Cassill        BK Toyota                    50.940s  + 0.923s
39.  Dave Blaney           Baldwin Chevrolet            51.083s  + 1.066s
40.  Bobby Labonte         JTG Daugherty Toyota         51.211s  + 1.194s
41.  David Reutimann       Baldwin Chevrolet            51.268s  + 1.251s
42.  Cole Whitt            Circle Sport Chevrolet       51.404s  + 1.387s
43.  Robert Richardson Jr  R3 Chevrolet                 51.500s  + 1.483s