Clint Bowyer: Talladega could decide NASCAR Sprint Cup title fight
| | |
| --- | --- |
| By Diego Mejia | Saturday, October 6th 2012, 16:26 GMT |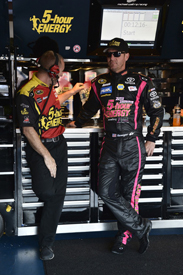 Clint Bowyer is convinced this weekend's Chase event at Talladega could decide the destination of the 2012 NASCAR Sprint Cup title.
The Michael Waltrip Racing driver, winner of the past two play-off events at the venue, arrives at the fourth round of the Chase 25 points behind leader Brad Keselowski, and also trailing Hendrick Motorsports' Jimmie Johnson and Joe Gibbs Racing's Denny Hamlin.
Bowyer has managed to finish every Talladega race since 2007 and has led laps in three out of the last four races at the 2.66-mile Superspeedway.
He sees this weekend as a chance for the driver standings to really shake up for the first time since the title race started three weeks ago.
"This can be a game changer," said Bowyer. "This is one of the tracks that can separate somebody and possibly win you a championship.
"It seems like each and every week these first few [Chase races], it's just been a point or two here, a point or two there. This is one that can swing 20, 30 points and take you out of the running or push you into it. Everybody is anticipating those last few laps here."
The 33-year-old says his approach to Sunday's race will be a balance between surviving the distance and avoiding the expected pile-ups, while being aggressive in the decisive stages.
He believes up to this point every driver in the Chase is still in with a chance as the outcome of this race could tighten the standings with six races to go.
"I think this track is the reason why everybody in the Chase is still in it," said Bowyer. "This is the only track where all of us can get wiped out or maybe all of us but one or two.
"Maybe the 12th guy can be the only one that doesn't get taken out and, if he does, he comes out of here with a whole new outlook 10 or 15 points out of the lead and all of a sudden it has changed the look of things. Breath of air for the rest of the races.
"This is a dangerous wildcard race for the Chase and you've just got to go out there and be as careful as you can and also be as aggressive as you can and try to get yourself in the situation to win this thing."