Dover NASCAR: Brad Keselowski wins as strategy pays off
| | |
| --- | --- |
| By Diego Mejia | Monday, October 1st 2012, 00:02 GMT |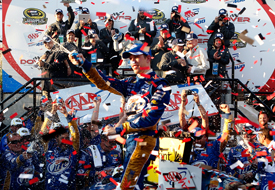 Brad Keselowski claimed his second win in three Chase races by beating his rivals in a fuel-mileage finish in Sunday's NASCAR Sprint Cup round at Dover.
The Penske driver reclaimed the lead of the championship with a calculated drive that took him to his fifth win of the year.
Keselowski was a top-five contender for most of the day but did not look a threat until the final caution waved.
Pre-race favourite Jimmie Johnson was in the lead following that last yellow, caused by Chase contender Matt Kenseth spinning for a second time with 82 laps remaining.
As the lap-count faded strategies started to come into play. Hendrick driver Johnson elected to save fuel and allowed Kyle Busch to retake the lead that had been his for most of the afternoon.
While Busch stayed ahead, hoping for a caution to come out, his Joe Gibbs team-mate Denny Hamlin moved up to second place, but neither had saved enough fuel to make it to the end.
Eventually Busch had to pit 11 laps from home, while Hamlin followed a lap later, handing the lead to Keselowski as Johnson was forced to slow his pace in order to avoid an extra stop.
From behind Jeff Gordon was on a charge as he had more fuel on board, having pitted during the last caution while the leaders had all topped up during the penultimate caution a few laps earlier. The four-time champion passed Johnson for second and had Keselowski in sight but ran out of time to snatch victory.
"My guys did that," said Keselowski. "They did a great job with the fuel. Together we were able to manage it very well, which is as important as anything else in racing these days. As you saw, it came together at the end for a victory."
Keselowski's team bounced back from a slow pitstop early on, which almost cost them a lap.
Many of the Chase contenders were unable to finish on the lead lap after getting caught out by the first caution waving right after they had just pitted under green for the first time.
Only six cars finished on the lead lap as a consequence. Those having to take a splash at the end included Chase contender Hamlin, who finished eighth, and Michael Waltrip Racing's Clint Bowyer.
Veteran Mark Martin got back on the lead lap during the final caution and also had enough fuel on board to jump up to third at the flag ahead of Johnson.
Carl Edwards rounded out the top five on yet another lacklustre day for Roush Fenway Racing. Besides Kenseth's incidents, caused by a mechanical failure, Greg Biffle had to make an unscheduled stop under green that placed him three laps down.
Kasey Kahne looked in position to score yet another top-five result but a suspected loose wheel and a pit penalty for a loose lug nut cost him a strong finish.
Reigning champion Tony Stewart was only 20th and finished three laps down, losing further ground in the championship Chase.
Results - 400 laps:

Pos  Driver              Team/Car                         Time/Gap
 1.  Brad Keselowski     Penske Dodge                 3h11m53.000s
 2.  Jeff Gordon         Hendrick Chevrolet               + 1.078s
 3.  Mark Martin         Waltrip Toyota                   + 1.632s
 4.  Jimmie Johnson      Hendrick Chevrolet               + 6.332s
 5.  Carl Edwards        Roush Fenway Ford                + 9.035s
 6.  Martin Truex Jr     Waltrip Toyota                   + 9.824s
 7.  Kyle Busch          Gibbs Toyota                      + 1 lap
 8.  Denny Hamlin        Gibbs Toyota                      + 1 lap
 9.  Clint Bowyer        Waltrip Toyota                    + 1 lap
10.  Joey Logano         Gibbs Toyota                      + 1 lap
11.  Dale Earnhardt Jr   Hendrick Chevrolet               + 2 laps
12.  Ricky Stenhouse Jr  Roush Fenway Ford                + 3 laps
13.  Kevin Harvick       Childress Chevrolet              + 3 laps
14.  Bobby Labonte       JTG Daugherty Toyota             + 3 laps
15.  Kasey Kahne         Hendrick Chevrolet               + 3 laps
16.  Greg Biffle         Roush Fenway Ford                + 3 laps
17.  Regan Smith         Furniture Row Chevrolet          + 3 laps
18.  Marcos Ambrose      Petty Ford                       + 3 laps
19.  Aric Almirola       Petty Ford                       + 3 laps
20.  Tony Stewart        Stewart-Haas Chevrolet           + 3 laps
21.  Ryan Newman         Stewart-Haas Chevrolet           + 3 laps
22.  Paul Menard         Childress Chevrolet              + 4 laps
23.  Kurt Busch          Phoenix Chevrolet                + 5 laps
24.  Jamie McMurray      Earnhardt Ganassi Chevrolet      + 6 laps
25.  Sam Hornish Jr      Penske Dodge                     + 7 laps
26.  Juan Pablo Montoya  Earnhardt Ganassi Chevrolet      + 7 laps
27.  Jeff Burton         Childress Chevrolet              + 7 laps
28.  Danica Patrick      Stewart-Haas Chevrolet           + 7 laps
29.  Travis Kvapil       BK Toyota                        + 8 laps
30.  David Ragan         Front Row Ford                   + 8 laps
31.  Casey Mears         Germain Ford                     + 9 laps
32.  David Gilliland     Front Row Ford                   + 9 laps
33.  TJ Bell             FAS Lane Ford                   + 10 laps
34.  JJ Yeley            Baldwin Chevrolet               + 12 laps
35.  Matt Kenseth        Roush Fenway Ford               + 29 laps
36.  Landon Cassill      BK Toyota                       + 46 laps

Retirements:

     Josh Wise           Front Row Ford                    92 laps
     Michael McDowell    Parsons Ford                      51 laps
     Joe Nemechek        NEMCO Toyota                      48 laps
     Scott Speed         Leavine Ford                      32 laps
     Dave Blaney         Baldwin Chevrolet                 29 laps
     Scott Riggs         R3 Chevrolet                      26 laps
     Reed Sorenson       Humphrey Smith Chevrolet          18 laps