Dale Earnhardt Jr: Worst Chase results need to be behind us
| | |
| --- | --- |
| By Diego Mejia | Wednesday, September 26th 2012, 08:21 GMT |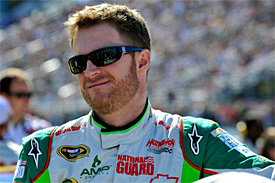 Dale Earnhardt Jr believes he needs to step up his performance in order to fight for this year's title, although he believes his team needs to keep a measured approach to the remaining Chase races.
The Hendrick Motorsports driver enjoyed a very consistent regular season, capped by his first win in nearly four years, but the first two Chase events have yet to show he has the potential to be a strong contender for the title.
An eighth place at Chicagoland and a 13th at Loudon last weekend have him ranked seventh in points, already 26 behind his team-mate Jimmie Johnson, who currently leads the Chase.
While Earnhardt admits his performances have not been what he expected, he says the results are a match for the speed he had in those two events. He claims his team has avoided taking any gambles so far and he is confident that such approach will pay off in the end.
"I think we have to be smart and conservative and use good judgment when we're out on the racetrack, trying to get the best finish we can get," said Earnhardt.
"If somebody says, 'Look, man, you can finish eighth today', [but] there's a one in a million chance that you can pit now and get four tires with 10 laps to go, trying to finish seventh, fifth, whatever, I mean, you just can't take those - if it doesn't work out, you're going to wind up 25th.
"You can't take those chances, do those kind of things that are foolish."
"We'll go back to being smart, do the best we can do, what we've done the last two weeks. Hasn't been up to our standards, but that was the best we had that day.
"We'll have to work the next eight and work as hard as we can and see what happens in those eight races."
Earnhardt admits that while remaining consistent through the next eight weeks will be crucial, he also needs to step up his performance and win if he really is to fight for this year's title at Homestead.
"I know the guy that wins the championship is going to have some wins in this Chase," Earnhardt said.
"You've got to win races in the Chase. You can't just finish fifth every week and think that's going to get it done.
"But consistency, yeah, I mean, we've got to run better than 13th. We got to do more than we did last week.
"That can't even be our worst - we've got to do better than that. Our worst needs to be eighth. We need to be better than that every week."