Team owner Joe Gibbs hails Denny Hamlin's influence to secure 100th NASCAR win
| | |
| --- | --- |
| By Sam Tremayne | Monday, September 24th 2012, 16:22 GMT |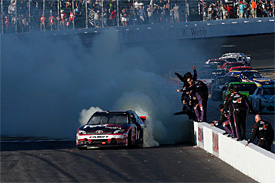 Team owner Joe Gibbs has hailed the role Denny Hamlin played in galvanising his team en route to securing his outfit's 100th NASCAR victory.
After running out of fuel and losing a top five finish on the final lap at Chicagoland, Hamlin then had to contend with a team error when his tyres were set to the wrong pressure in qualifying at Loudon, leaving him a lowly 32nd.
Gibbs said Hamlin's ability to handle both setbacks without accusation was a major factor in the team's subsequent resurgence in the race.
"For two weeks in a row, we had things happen on our race team [with] two of our best people," Gibbs said.
"I think the way Denny reacted both times was absolutely great.
"Last week [at Chicagoland] he was real relaxed afterwards, [despite his crew member] taking it real hard.
"This week when we figured out [the tyre pressure mistake] I turned around and Denny just grabbed the crew member in a headlock and was laughing with him.
"I really appreciate the way he handles everything. It would be easy for the guy in charge to go off on somebody, but you know, many times that can make the difference down the road. Those guys are going to remember that.
"It was a huge day for us, a huge deal for us, and I want to thank everybody who helped us get where we are."
Hamlin, who moved to within seven points of the Chase lead following his dominant win, said: "I can handle the bad days when I put the grand scheme of things in a bigger picture.
"You learn over time what it takes to build a championship team and what makes these guys tick. You don't think as a driver that your emotion has any bearing on how they perform but it really does."