Champions celebrate F1 Racing's 200th
| | |
| --- | --- |
| | Wednesday, September 19th 2012, 11:21 GMT |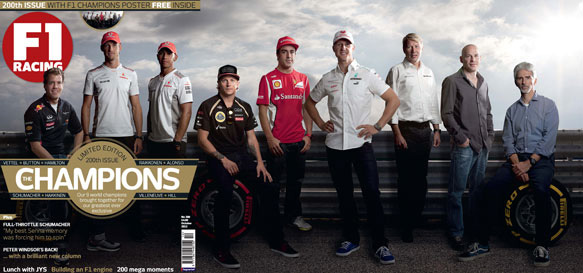 F1 Racing magazine has brought together every Formula 1 world champion since the magazine's 1996 launch to the present day for a special celebratory 200th issue, which goes on sale from 20 September.
Every title winner from Damon Hill through to Sebastian Vettel (by way of Jacques Villeneuve, Mika Hakkinen, Michael Schumacher, Fernando Alonso, Kimi Raikkonen, Lewis Hamilton and Jenson Button) has been interviewed and photographed for a unique gatefold cover, feature and free poster.
F1 Racing would like to tell you it was an easy task to put such a line-up in place but with eight different team PRs and managers to liaise with - combined with a hectic F1 schedule - it was no mean feat.
Yet in the end, five months of planning, chasing, waiting, worrying, photographing and interviewing came together for what the team thinks is its most spectacular cover feature to date.
With such a strong cover, F1 Racing knew the rest of the 200th issue had to include a number of other special exclusives, chief of which is the readers' 'you ask the questions' interview with seven-time world champion Michael Schumacher.
One of the questions put to the German ace by readers concerned the best moment of his record- breaking career.
After ruminating for a few moments, Schumi provided his answer: pressuring Ayrton Senna into spinning his Williams during the 1994 Brazilian GP. That was just one of many revelations in a fascinating interview with the man who is currently the oldest driver on the F1 grid.
There's also an in-depth interview with three-time world champion Jackie Stewart; an exhaustive countdown of the 200 moments that have rocked the sport during F1 Racing's lifetime; a photoshoot with the fabulous 1996 Williams FW18; and a very hands-on trip to Renault's F1 engine factory.
The magazine also features a host of new columns (including the return of Peter Windsor) and more in- depth technical and race preview sections.
Reserve your copy today or get the digital edition at www.f1racing.co.uk/digital-edition/.