Ed Carpenter hopes Fontana win boosts chances of expanding his team in 2013
| | |
| --- | --- |
| By Mark Glendenning | Monday, September 17th 2012, 16:05 GMT |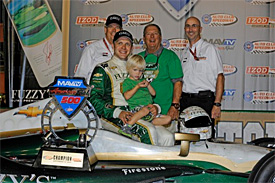 Ed Carpenter is hoping that his win at last weekend's IndyCar season finale at Fontana will boost his chances of adding a second car to his self-owned team next year.
Carpenter, who formed his eponymous team for the 2012 season after spending the previous three years racing for Sarah Fisher, took his second career win on Saturday night when he passed Dario Franchitti on the final lap.
He said that he was optimistic that the victory will make it easier to expand Ed Carpenter Racing in 2013.
"We've been trying to find a way to get to a second car team at times this is year, and for sure next year," he said.
"Whether or not that will happen... there are a lot of factors that go into being able to expand, but maybe getting this win will help us with that."
Carpenter said that the team's early success was the result of having the right people on board.
"I think to be where we are right now as a first year team is pretty remarkable," he said. "The whole group, from [team managers] Derrick [Walker] and Tim [Broyles] down through all the mechanics, engineers, everybody, even a couple of guys that aren't with us anymore had an influence in this.
"So I'm just really proud for the whole team, and really happy to be able to do this in our first year. I think it's something that's extremely hard to do to win in this series anywhere. To do it as a new team, I think is pretty special."