VIR ALMS: Klaus Graf and Lucas Luhr put Pickett HPD back on top
| | |
| --- | --- |
| | Saturday, September 15th 2012, 22:42 GMT |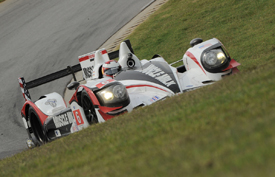 Pickett HPD pairing Lucas Luhr and Klaus Graf resumed their domination of the American Le Mans Series with a straightforward win on the championship's debut at Virginia International Raceway.
The rival Dyson Lola-Mazda only got close at the start, when Chris Dyson tried to go around the outside of Graf for the lead.
As Dyson backed out of the move, his team-mate Mark Patterson locked up and spun right behind, causing carnage throughout the pack, particularly among the LMPC field.
Graf and Luhr pulled away thereafter, ultimately winning the four-hour race by three laps after Dyson and team-mates Guy Smith and Johnny Mowlem had issues including a pit procedure penalty and a seatbelt problem at a driver change.
The LMP1 title battle will still roll on to next month's Petit Le Mans finale, but GT was resolved at Virginia. Corvette's Oliver Gavin and Tommy Milner wrapped up the crown with a class victory, coming home comfortably ahead of the #45 Flying Lizard Porsche and the #01 Extreme Speed Ferrari, with which Johannes van Overbeek had fought hard with Gavin in the opening stint.
The Challenge classes were both settled, with CORE Autosport's Alex Popow becoming LMPC champion and Alex Job Racing's Cooper MacNeil clinching GTC.
Third was sufficient for Popow, sharing with Tom Kimber-Smith, as their team-mates Colin Braun and Jonathan Bennett took the class win.
GTC came down to the very last lap, when the Chris Cumming/Michael Valiante JDX car had to pit from the lead as its fuel ran low, and MacNeil's Alex Job partner Leh Keen held off the NGT Porsche of Jeroen Bleekemolen and Henrique Cisneros to win.
All three LMP2 cars received at least one penalty for contact in traffic. Eventual winners Christophe Bouchut and Scott Tucker had two, yet still took victory. The sister #95 Level 5 car lost second place to flying Conquest driver Martin Plowman on the final lap.
Results - 135 laps:

Pos  Cl   Drivers                      Team/Car                    Time/Gap
 1.  P1   Luhr/Graf                    Pickett HPD             4h01m17.294s
 2.  P1   Dyson/Smith/Mowlem           Dyson Lola-Mazda            + 3 laps
 3.  P2   Tucker/Bouchut               Level 5 HPD                 + 4 laps
 4.  P2   Plowman/Heinemeier Hansson   Conquest Morgan-Nissan      + 4 laps
 5.  PC   Bennett/Braun                CORE FLM                    + 7 laps
 6.  PC   Junco/Franchitti             PR1 Mathiasen FLM           + 8 laps
 7.  PC   Popow/Kimber-Smith           CORE FLM                    + 8 laps
 8.  GT   Gavin/Milner                 Corvette                    + 9 laps
 9.  GT   Bergmeister/Long             Flying Lizard Porsche       + 9 laps
10.  GT   Sharp/van Overbeek           Extreme Speed Ferrari       + 9 laps
11.  GT   Muller/Auberlen              RLL BMW                     + 9 laps
12.  PC   Junqueira/Drissi             RSR FLM                    + 10 laps
13.  GT   Neiman/Holzer                Flying Lizard Porsche      + 10 laps
14.  PC   Richard/Ende                 Dempsey FLM                + 11 laps
15.  GT   Sweedler/Bell                Alex Job Lotus             + 11 laps
16.  GT   Henzler/Sellers              Falken Porsche             + 12 laps
17.  GT   Magnussen/Garcia             Corvette                   + 13 laps
18.  PC   Burgess/Sanchez/Lux          Merchant FLM               + 14 laps
19.  GT   Muller/Summerton             RLL BMW                    + 15 laps
20.  GTC  MacNeil/Keen                 Alex Job Porsche           + 17 laps
21.  GTC  Cisneros/Bleekemolen         NGT Porsche                + 17 laps
22.  GTC  Cumming/Valiante             JDX Porsche                + 17 laps
23.  GTC  LeSaffre/Faulkner            Green Hornet Porsche       + 17 laps
24.  GTC  Di Guida/Pumpelly            TRG Porsche                + 19 laps
25.  GTC  Benitez/Benitez              NGT Porsche                + 19 laps
26.  GTC  Faieta/Avenatti              Competition Porsche        + 21 laps

Retirements:

     GT   Miller/Maassen               Miller Porsche               98 laps
     P1   Marsal/Patterson/Dyson       Dyson Lola-Mazda             94 laps
     GT   Brown/Cosmo                  Extreme Speed Ferrari        93 laps
     PC   Marcelli/Downs               Merchant FLM                 32 laps
     P2   Tucker/Diaz/Gonzalez         Level 5 HPD                      DSQ