Jeff Gordon reckons consistency key to NASCAR Sprint Cup Chase
| | |
| --- | --- |
| By Diego Mejia | Friday, September 14th 2012, 20:59 GMT |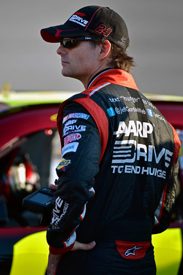 Jeff Gordon believes the consistency that saw him make it into the NASCAR Sprint Cup Chase despite a tough season will be key to his bid for a fifth title.
The four-time champion ranks second to Penske's Brad Keselowski in the list of drivers who scored highest in the 10 pre-Chase races.
Gordon arrives at the Chicagoland Chase opener fresh from three straight top-three finishes. He was close to a second win of the season at Atlanta and Richmond, where he finished second.
The Hendrick driver's season-long form has been full of ups and downs, especially during the first half of the year. This is something he hopes to avoid as he enters the play-off as a wildcard.
"We definitely have some work to do, we've got a few weaknesses," Gordon admitted.
"It's not like all of a sudden magically they're going to turn around but you'd be amazed at how things change - just like in the [Richmond] race on Saturday night, we went from nothing going right to almost saying everything's going right.
"And that's sometimes what can happen when that momentum shift happens. All of a sudden the pitstops get better, the car's getting better and the communication gets better and just starts making things work. We've done that the last three weeks.
"We've proven ourselves what we're capable of doing, now we've got to go do it over the next 10 weeks.
"Everything changes. Everybody ramps up, everybody brings their best and we're going to find out if our best is capable of winning the championship."
Gordon last fought for the title in 2007 when he was head-to-head with his eventual champion team-mate Jimmie Johnson for most of the play-off.