Italian GP: Jenson Button backs McLaren's decision to avoid intra-team towing in Monza qualifying
| | |
| --- | --- |
| By Jonathan Noble and Andrew van Leeuwen | Saturday, September 8th 2012, 13:53 GMT |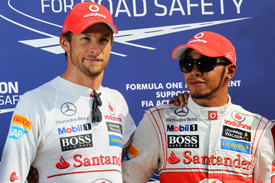 Jenson Button says he was not tempted to try and work out a slipstreaming deal with his McLaren team-mate Lewis Hamilton during qualifying for the Italian Grand Prix.
According to the Belgian GP winner, who qualified second at Monza, it was too difficult to try and orchestrate a slipstream from Hamilton during qualifying, a trick that Ferrari used throughout the session with Felipe Massa and Fernando Alonso.
"It is something that personally I feel it is difficult to plan," Button said.
"It is difficult to get it right. You concentrate too much on it and getting the braking point right. The way we did it was much better, just finding traffic on the circuit."
However, Button did admit that he scored a tow from Sebastian Vettel's Red Bull in Q3, and that it made a big difference.
"In Q3 I realised how much [difference] a tow makes," he added. "I was able to get a reasonable tow off Vettel, which surprisingly made a big difference."
Button also said he was delighted to be starting next to Hamilton, even if Monza's first corner is notorious for first lap crashes.
"For us both to be on the front row is fantastic for the team. The last three races we have shown strength, and qualifying both cars on front row is great, so thank you very much.
"It doesn't matter who is alongside you, [the first corner] is always an interesting corner, especially because it is such a long run down there. You cannot plan it."