FIA chief Jean Todt says Formula 1 risks becoming unsustainable
| | |
| --- | --- |
| By Jonathan Noble | Saturday, September 8th 2012, 10:00 GMT |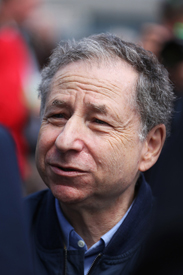 FIA president Jean Todt says there is no question that costs must be brought down in Formula 1 is the sport is to maintain its current grid.
Amid ongoing discussions to frame a new Concorde Agreement from the start of next year, there has been an increased focus on ways to reduce expenditure in F1 - especially with new rules coming in for 2014.
Todt met with Ferrari president Luca di Montezemolo and F1 commercial rights holder Bernie Ecclestone at Maranello on Friday for talks about the future, and is in no doubt that action needs to be taken.
But he thinks the responsibility for doing that needs to be shared among all of F1's stakeholders, and says that the sport cannot just sit back and do nothing.
"It is up to the teams to work with our people [the FIA] and the commercial rights holder," he told AUTOSPORT at the Italian Grand Prix. "We need to agree what to do: otherwise it will be unsustainable. We must reduce the costs in order to keep everybody on board."
Todt declined to elaborate on what progress was made at the Ferrari summit, and was cautious about being optimistic that things were heading in the right direction.
"Time will tell, but hopefully, yes," he said. "Anyway there is a will to move in the right direction."
He added: "Formula 1 is too expensive. With motorsport, I always say what do we need to do? What are our priorities? To reduce the cost, to improve the show, and to implement new technology and revisions for the future, because the world is changing. Plus we need to act as much as we can for the society on road safety, which is a mobility issue.
"We have been doing so much in racing that we still need to work always on improving safety in racing, and to contribute to the society on road safety. That is the priority. All that we can do which goes in those frames, we will do it."