Key says 2014 a big chance for STR
| | |
| --- | --- |
| By Edd Straw | Friday, September 7th 2012, 08:56 GMT |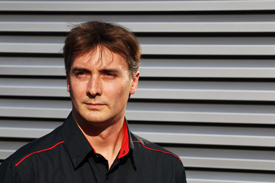 Toro Rosso technical director James Key believes that the 2014 season's 1.6-litre turbocharged V6 Formula 1 rules present a big opportunity for his new team.
Key, who has replaced Giorgio Ascanelli, stopped short of suggesting that the team would write off 2013 and is also targeting a step forward then.
"With 2014 coming in after the next car we're doing, it's a completely different development direction so there is not an awful lot of carryover," said Key.
"Toro Rosso is still a small team, so you have to be careful to compromise between next year, where we really want to make a step forwards, and not compromise 2014.
"There's a lot of opportunity for 2014, as we saw when the 2009 regulations came in, so we're going to have to play a very careful balancing act."
Key, who started work at Toro Rosso this week, believes that he needs to take some time to analyse the workings of the team before finalising restructuring plans.
Although work on the 2013 car is already well underway, the ex-Sauber technical chief hopes to have an influence on its competitiveness.
"It is early days and I need to observe for a little longer," Key said. "Like in my previous teams, there is an endgame and we know where we want to go with it and what to do to get there.
"Although the endgame is the same it depends on whatever team you are in, so I think there is some restructuring required in areas which I think are most important for performance.
"We need to take another good look at where the current car is and where the concept of next year's car is going.
"There are a few things that we can fix next year, or even for this year with the time that we have, perhaps on the mechanical side and how we balance the car.
"The aero numbers are needing a bit of work but they are not far off. The strengths of the car are that it is well put together and its efficiency is quote good aerodynamically."
Key is certain that the necessary investment will be available for STR to grow.
But admitted that he was surprised by the facilities and resources already at his disposal.
"I've certainly had the discussions," he said when asked by AUTOSPORT what assurances he has had about investment.
"I've been impressed with the sort of investment that has gone into Faenza over the last three years as this team grew from something that was very small to a genuine constructor.
"A lot of money has already gone into that happening. There are things I would like to bring in over a certain period of time and there's a desire in the team to do that, but you've also got to tune yourself to the budge.
"I'm putting together plans over what to do over the next few years and we'll do whatever we can within the budget we have."