ItalianGP: Michael Schumacher will not deviate on October deadline for F1 future
| | |
| --- | --- |
| By Jonathan Noble | Thursday, September 6th 2012, 17:30 GMT |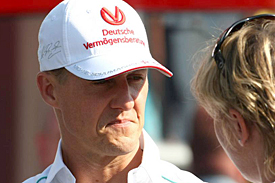 Michael Schumacher insists there will be no deviation from plans to finalise his Formula 1 future in October despite speculation suggesting Lewis Hamilton is to replace him next year.

Hamilton's management team has held talks with Mercedes about a contract for 2013, and former team boss Eddie Jordan has gone so far as stating that they have actually agreed terms.

Although such a deal would point to Schumacher retiring from F1 again at the end of the season, the seven-time champion suggested at Monza that his situation was unchanged.

Asked for his response to Jordan's suggestions, Schumacher said: "Yeah I read that or heard that, but obviously I have no comment."

He added: "There is very clearly no further statement. We told you guys October [for a decision] and we will tell you how things are going."

Schumacher was later asked to explain why drivers would choose to move from a race-winning car to less competitive machinery - as Hamilton could potentially do and as he had done himself when he moved from Benetton in 1995 and joined Ferrari for the following season.

"To make my decision in 1996 it was very clear with certain other factors that happened at the time I clearly wanted to change," he said.

"I was looking for the right way for the future for my own perspective, and I think for me it was to do with the personal relationship that I have.

"When, at the time, I met Jean Todt for the first time really, with his ideas and his point of view, there was a very clear correlation. There was that point of view that I was looking for, for my future; which I decided.

"Whether it was a difficult way or not, that was not so much important to me. It certainly was clear it was a challenge and at the time it was no problem to face that challenge."