Belgian GP: Sauber insists it is a realistic contender for victory at Spa
| | |
| --- | --- |
| By Edd Straw | Sunday, September 2nd 2012, 07:48 GMT |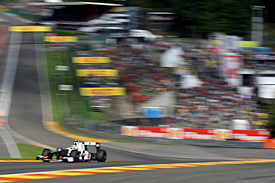 Sauber is a realistic contender for victory in the Belgian Grand Prix, according to team CEO Monisha Kaltenborn.
Kamui Kobayashi lines up second on the grid, the Sauber team's first front row start as a fully-independent team since Jean Alesi at the 1999 French Grand Prix, with Sergio Perez fourth.
The Sauber-Ferrari C30 has shown consistently strong race pace over the season, but its results have often been compromised by disappointing qualifying performances, something that will not hold the Swiss team back at Spa.
"From this position, everything is realistic, even going right to the top," Kaltenborn told AUTOSPORT. "But this is determined by many factors that are not under our control.
"We will definitely try to make the most of it. It puts you at a very different starting point, where you don't have to make your way through the field as you do if you start P15. If you start in front, you can really utilise the potential of the car."
Kaltenborn believes that having both drivers potentially in the mix for victory will offer it a wider range of strategic options.
Provided both drivers are still well-placed after the first lap, it would be possible to opt for alternative strategies with its two drivers.
"This is something that we have not done often enough in the past," said Kaltenborn. "Normally, we had one car somewhere further up and the other at the back.
"But this will allow us to look at many different strategies with ideas of how to strategically place the cars."
Kaltenborn is certain that Sauber has nothing to fear from drivers from the traditional top teams which start from lower grid positions.
While she does not expect it to be easy, she believes that the car has shown representative speed relative to the rest.
"We have now been able to make the most of this car and have a good qualifying," said Kaltenborn. "But there are some very strong teams [starting behind] that are very good in the race.
"They have also shown a good level of performance this year. We won't be laying back and saying that with these positions, points are absolutely sure and we will have to be careful that they don't come through and overtake us."