Spa GP3: Daniel Abt wins as Robert Cregan crash halts race one
| | |
| --- | --- |
| By Charles Bradley | Saturday, September 1st 2012, 16:37 GMT |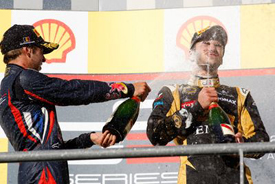 The GP3 race at Spa-Francorchamps was red-flagged after just 15 minutes of its scheduled 25-minute duration due to a heavy crash that befell Robert Cregan at Pouhon on lap four.
Daniel Abt was declared the winner, after he pulled off an opportunistic move on leaders Mitch Evans and Antonio Felix da Costa at Les Combes on the third lap.
As they were so intent with their own battle, they slid wide and allowed Abt to nip past the pair of them.
Matias Laine took the lead at the start from second on the grid, but ran wide at Les Combes on the opening lap and almost took out Abt.
Evans led, before da Costa dragged past him with a neat move into Les Combes on lap two.
But as he attempted to fend off Evans's attack a lap later, Abt jumped them both.
Abt clung on to his lead at Les Combes a lap later, forcing da Costa over the sleeping policemen on the inside of the corner as they raced side-by-side.
The race was soon neutralised as Cregan came off worst from a clash between himself, David Fumanelli and Alex Brundle on the run to Pouhon, in which Cregan was fired backwards into the tyre wall on three wheels.
The tyre wall appeared to trap him in the car, and with little chance of the race restarting it was red-flagged and called as a result.
Abt won the four-lap event by 0.3 seconds from da Costa and Evans. Tio Ellinas was fourth ahead of Laine.
Aaro Vainio saw his receding championship chances diminish even further, as he finished sixth, followed by Conor Daly and Lewis Williamson.
Results - 4 laps:

Pos  Driver                  Team        Time/Gap
 1.  Daniel Abt              Lotus      8m54.720s
 2.  Antonio Felix da Costa  Carlin      + 0.321s
 3.  Mitch Evans             MW Arden    + 1.410s
 4.  Tio Ellinas             Manor       + 1.971s
 5.  Matias Laine            MW Arden    + 2.655s
 6.  Aaro Vainio             Lotus       + 3.157s
 7.  Conor Daly              Lotus       + 4.679s
 8.  Lewis Williamson        Status      + 6.081s
 9.  Giovanni Venturini      Trident     + 7.024s
10.  Alex Fontana            Jenzer      + 7.584s
11.  Patric Niederhauser     Jenzer      + 9.396s
12.  Kevin Ceccon            Ocean      + 10.170s
13.  Will Buller             Carlin     + 10.790s
14.  Marlon Stockinger       Status     + 11.119s
15.  Robert Visoiu           Jenzer     + 13.438s
16.  Vicky Piria             Trident    + 15.145s
17.  Tamas Pal Kiss          Atech CRS  + 16.967s
18.  Alice Powell            Status     + 18.793s
19.  Alex Brundle            Carlin     + 19.166s
20.  David Fumanelli         MW Arden   + 19.480s
21.  Robert Cregan           Ocean      + 19.787s
22.  Dmitry Suranovich       Manor      + 20.844s
23.  John Wartique           Atech CRS  + 22.634s
24.  Ethan Ringel            Atech CRS  + 23.445s
25.  Fabiano Machado         Manor      + 24.117s
26.  Carmen Jorda            Ocean      + 27.131s