McLaren will not debut double DRS at Belgian Grand Prix
| | |
| --- | --- |
| By Tom Mallett and Matt Beer | Thursday, August 30th 2012, 11:41 GMT |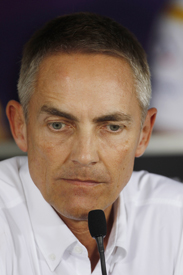 McLaren boss Martin Whitmarsh has denied rumours that the team will introduce double DRS at this weekend's Belgian Grand Prix, but left the door open for the appearance of such a device later in the year.
There had been speculation that McLaren would become the third Formula 1 team to employ such a system, which gives a straightline speed boost by stalling the airflow over wings.
Mercedes pioneered it at the start of the season, before Lotus' version made its debut in German GP practice.
When asked by AUTOSPORT if a McLaren double DRS would appear at Spa, Whitmarsh dismissed such suggestions. But he also hinted that a comparable system might be in the pipeline.
"There is no doubt that the double DRS is interesting, but I think there are other variants of it starting to be seen on other teams' cars, so they might not follow a pattern that we saw on the Mercedes," he said.
"But we are not announcing when, where or if we are going to introduce it.
"I think people will see different wing variants, certainly on our car in scrutineering tomorrow and as they take to the track.
"So we will see new bits but McLaren will not have a double DRS in Belgium."
Lotus is set to race its double DRS for the first time this weekend if the system performs without problems in practice.
Spa is regarded as the ideal track for the device due to its long straights and the potential for drag reduction.
Although Monza has similarly long straights, it requires minimal drag levels so double DRS would not offer as great a benefit.
AUTOSPORT revealed last month that double DRS would be banned for 2013.