Toyota ready to challenge Audi for wins says Alex Wurz
| | |
| --- | --- |
| By Sam Tremayne and Josh Bell | Wednesday, August 29th 2012, 12:44 GMT |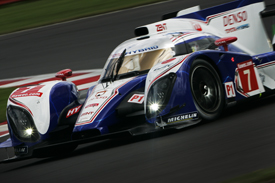 Toyota driver Alex Wurz believes that the TS030 HYBRID's podium finish at the Silverstone Six Hours proves it is already capable of race wins.
Wurz said that FIA World Endurance Championship victories could easily come the way of the Japanese manufacturer in the remaining four races of the year, such was its fight with Audi in Britain.
Although the Austrian acknowledges that improvements need to be made, Wurz is adamant Toyota can capitalise on any misfortune to befall its German rival.
"In my first stint, the car was really faultless and the balance was good," Wurz told AUTOSPORT.
"Then we started to have problems with balance throughout the race, which became worse and worse. So we will have to investigate that because with the Audis it seemed to be the opposite.
"If they are off-balance and do not have a clean race, along with a bit of pressure from us, we could potentially beat them but we need a bit of luck involved.
"It depends a lot on how the races pan out.
"Realistically we have seen that there are two tracks which are not that great for us in terms of high altitude, at Sao Paolo and Fuji.
"The bottom line is, without moaning too much, we are just down on horsepower, which is a regulation issue.
"In any case we are young and it is only our second race but to win if they have a fault-free race will be very difficult."
Wurz added that Toyota had definitely closed on Audi since Le Mans in June, and feels the team has already filled the void left by Peugeot.
"It is a very different scenario to Le Mans, which is obviously low downforce configuration, as we are now coming to high downforce tracks," he said.
"We've made a big jump on the aero, as well as a small improvement mechanically.
"Overall, I think we have gained on the Audis.
"The high downforce package looks good and has definitely brought us closer so we have made a bigger step than them.
"However, you cannot underestimate their budget.
"At Silverstone we were actually leading, the same as in Le Mans, and if I were Audi I would take that very seriously and I think they do.
"That's nice for us to immediately step into the hole Peugeot left and be a proper competitor."