Bristol NASCAR: Denny Hamlin wins as Chase field forms
| | |
| --- | --- |
| By Diego Mejia | Sunday, August 26th 2012, 04:54 GMT |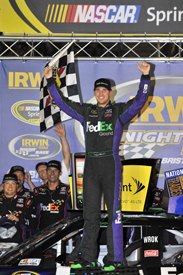 Denny Hamlin claimed his first NASCAR Sprint Cup Series career win at Bristol while Greg Biffle, Jimmie Johnson, Dale Earnhardt Jr and Matt Kenseth secured a place in this year's Chase.
In one of the most action-packed races of the season, Joe Gibbs Racing driver Hamlin came out on top from a battle where strategy and track position were key.
Hamlin was a top-five runner following the final round of pitstops and challenged Roush Fenway's Carl Edwards for the lead in the deciding stages, overtaking him after some contact with 39 laps remaining, before pulling away during the final green-flag stretch to the finish.
"The best car won tonight, no doubt about it," said Hamlin, whose third victory of 2012 places him in contention for the Chase lead, as he shares the same tally of wins with Johnson, Penske's Brad Keselowski and reigning champion Tony Stewart.
Johnson finished second and locked himself in championship contention, stretching his fuel mileage further than Hamlin but not really challenging for victory in the final stint, where he kept his Hendrick Motorsports team-mate Jeff Gordon in his rear-view mirrors.
Michael Waltrip Racing's Brian Vickers secured a second top-five finish at Bristol this year, his third of the season, in what was only his sixth outing for the team in 2012. Richard Petty's Marcos Ambrose rounded out the top five, running the same strategy as the Hendrick cars
Hamlin's team-mate Kyle Busch finished sixth and provisionally moved up to second in the wildcard standings, making the most of Ryan Newman's misfortunes in what turned out to be a disastrous, yet eye-catching day, for Stewart-Haas Racing.
The outfit's three drivers were all involved in incidents. Newman ended his day after contact with Earnhardt Ganassi's Juan Pablo Montoya, while Stewart crashed after making contact with Roush Fenway's Matt Kenseth while fighting for the lead.
Stewart was left furious and showed his anger by throwing his helmet at Kenseth's car before taking the ambulance to the infield care centre.
Danica Patrick ran a respectable race on her Bristol Cup debut, racing on the lead lap for most of the night until getting hit by Regan Smith entering the front-stretch, 64 laps from the end. She limited her protest to pointing at the passing car of Smith while the crowd cheered her.
Two-time winner Keselowski could not claim a Bristol hat-trick after being involved in an incident with Bobby Labonte halfway through the race.
2012 championship runner-up Edwards ran out of fuel and finished a lowly 22nd. He remains winless and outside the cut for this year's Chase.
Results - 500 laps:

Pos  Driver              Team/Car                         Time/Gap
 1.  Denny Hamlin        Gibbs Toyota                 3h09m27.000s
 2.  Jimmie Johnson      Hendrick Chevrolet               + 1.103s
 3.  Jeff Gordon         Hendrick Chevrolet               + 1.249s
 4.  Brian Vickers       Waltrip Toyota                   + 2.354s
 5.  Marcos Ambrose      Petty Ford                       + 5.237s
 6.  Kyle Busch          Gibbs Toyota                     + 5.717s
 7.  Clint Bowyer        Waltrip Toyota                   + 5.914s
 8.  Joey Logano         Gibbs Toyota                     + 6.265s
 9.  Kasey Kahne         Hendrick Chevrolet               + 6.400s
10.  Paul Menard         Childress Chevrolet              + 7.269s
11.  Martin Truex Jr     Waltrip Toyota                   + 7.667s
12.  Dale Earnhardt Jr   Hendrick Chevrolet               + 8.059s
13.  Juan Pablo Montoya  Earnhardt Ganassi Chevrolet      + 8.895s
14.  Bobby Labonte       JTG Daugherty Toyota             + 9.677s
15.  Kevin Harvick       Childress Chevrolet             + 10.039s
16.  Regan Smith         Furniture Row Chevrolet         + 10.440s
17.  Jamie McMurray      Earnhardt Ganassi Chevrolet     + 10.760s
18.  Travis Kvapil       BK Toyota                       + 10.942s
19.  Greg Biffle         Roush Fenway Ford               + 12.822s
20.  David Gilliland     Front Row Ford                  + 13.562s
21.  Casey Mears         Germain Ford                      + 1 lap
22.  Carl Edwards        Roush Fenway Ford                + 4 laps
23.  Michael McDowell    Parsons Ford                     + 4 laps
24.  Landon Cassill      BK Toyota                       + 10 laps
25.  Matt Kenseth        Roush Fenway Ford               + 14 laps
26.  Dave Blaney         Baldwin Chevrolet              + 24 laps*
27.  Tony Stewart        Stewart-Haas Chevrolet          + 29 laps
28.  Kurt Busch          Phoenix Chevrolet               + 60 laps
29.  Danica Patrick      Stewart-Haas Chevrolet         + 66 laps*
30.  Brad Keselowski     Penske Dodge                    + 66 laps
31.  Jason Leffler       Robinson-Blakeney Toyota        + 83 laps
32.  David Ragan         Front Row Ford                  + 91 laps
33.  Jeff Burton         Childress Chevrolet            + 140 laps
34.  Sam Hornish Jr      Penske Dodge                   + 157 laps

Retirements:

     Aric Almirola       Petty Ford                       235 laps
     Ryan Newman         Stewart-Haas Chevrolet           189 laps
     David Stremme       Inception Toyota                 159 laps
     Josh Wise           Front Row Ford                   150 laps
     Joe Nemechek        NEMCO Toyota                     130 laps
     Stephen Leicht      Circle Sport Chevrolet            56 laps
     Scott Riggs         R3 Chevrolet                      20 laps
     Ken Schrader        FAS Lane Ford                      9 laps
     Mike Bliss          Humphrey Smith Toyota              6 laps

* Not running at finish