Allan McNish heads Audi 1-2 in final Silverstone 6 Hours practice
| | |
| --- | --- |
| By Sam Tremayne | Saturday, August 25th 2012, 11:08 GMT |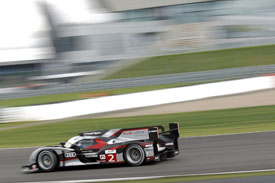 Allan McNish ensured a practice clean sweep for Audi by setting the fastest time so far this weekend in the final Silverstone 6 Hours practice session.
As was the case in second practice, it was the R18 ultra of McNish and Tom Krsitensen which went fastest, with the Briton dropping down to a 1m43.628s late on in the session.
That came in the middle of a string of fastest laps for the #2 R18, although McNish's stint was halted eight minutes from the flag when he clashed with the #71 AF Corse Ferrari.
Olivier Beretta seemed ready to cede the line to McNish only to then cut across the front of the Audi, leading to light contact.
Benoit Treluyer in the sister R18 e-tron reacted to McNish's charge with his own late rally, eventually getting down to a 1m44.882s, just over one second down.
Toyota too responded to McNish's surge, with Nicolas Lapierre breaking into the 1m45s to put the lone TS030 Hybrid within 1.9s of the ultimate pace.
As the flag flew however Lapierre also hit trouble trying to pass a Ferrari, earning damage to his right rear as a result.
Nicolas Prost and Neel Jani's Rebellion Lola-Toyota meanwhile was the best of the privateer LMP1 entrants in fourth, little more than one second down the road.
The LMP2 lead changed hands several times as the session wore on, with the battle eventually decided when Alex Brundle broke into the 1m49s in the #42 Greaves Motorsport Nissan.
That left Alex, father Martin and Lucas Ordonez just over one second clear of the #35 OAK Racing Morgan-Nissan.
GTE Pro honours were settled in the final minute when Gianmaria Bruni went fastest in the #51 AF Corse Ferrari he shares with Giancarlo Fisichella. His effort demoted the sister JMW Motorsport Ferrari into second.
Aston Martin meanwhile locked out the top two spots in GTE Am, with the #99 Vantage finishing fractions faster than the sister #98 car.
Pos  Cl     Drivers                                Team/Car                Time
 1.  P1     Kristensen/McNish                      Audi                    1m43.628s
 2.  P1     Fassler/Lotterer/Treluyer              Audi                    1m44.882s
 3.  P1     Wurz/Lapierre/Nakajima                 Toyota                  1m45.492s
 4.  P1     Prost/Jani                             Rebellion Lola-Toyota   1m46.500s
 5.  P1     Leventis/Watts/Kane                    Strakka HPD             1m46.589s
 6.  P1     Belicchi/Primat                        Rebellion Lola-Toyota   1m46.902s
 7.  P1     Brabham/Chandhok/Dumbreck              JRM HPD                 1m48.352s
 8.  P2     Ordonez/Brundle/Brundle                Greaves Zytek-Nissan    1m49.524s
 9.  P2     Heinemeier Hansson/Baguette/Kraihamer  OAK Morgan-Nissan       1m50.555s
10.  P2     Mailleux/Lombard/Tresson               Signatech ORECA-Nissan  1m50.633s
11.  P2     Firth/Hughes/Hartley                   Murphy ORECA-Nissan     1m50.812s
12.  P2     Potolicchio/Dalziel/Sarrazin           Starworks HPD           1m51.066s
13.  P2     Nicolet/Lahaye/Pla                     OAK Morgan-Nissan       1m51.229s
14.  P2     Martin/Charouz/Graves                  ADR-Delta ORECA-Nissan  1m51.311s
15.  P2     Perez Companc/Ayari/Kaffer             Pecom ORECA-Nissan      1m51.418s
16.  P2     Zugel/Gonzalez/Julian                  Greaves Zytek-Nissan    1m51.460s
17.  P2     Sims/Jousse/Jousse                     Status Lola-Judd        1m51.950s
18.  P2     Dolan/Hancock/Minassian                Jota Zytek-Nissan       1m52.408s
19.  P2     Panciatici/Ragues/Rusinov              Signatech ORECA-Nissan  1m52.417s
20.  P2     Liuzzi/Rossiter/Weeda                  Lotus Lola-Lotus        1m52.745s
21.  P2     Giroix/Ihara/Deletraz                  Gulf Lola-Nissan        1m53.703s
22.  P2     Holzer/Schultis/Albers                 Lotus Lola-Lotus        1m54.850s
23.  GTE P  Fisichella/Bruni                       AF Ferrari              2m01.937s
24.  GTE P  Walker/Cocker                          JMW Ferrari             2m02.068s
25.  GTE P  Lieb/Lietz                             Felbermayr Porsche      2m02.136s
26.  GTE P  Fernandez/Mucke/Turner                 Aston Martin            2m02.581s
27.  GTE A  Adam/Howard/White                      Aston Martin            2m02.920s
28.  GTE A  Goethe/Hall                            Aston Martin            2m03.256s
29.  GTE P  Bertolini/Beretta                      AF Ferrari              2m03.270s
30.  GTE A  Perazzini/Cioci/Griffin                AF Ferrari              2m03.633s
31.  GTE A  Bornhauser/Canal/Rees                  Larbre Corvette         2m04.112s
32.  GTE A  Krohn/Jonsson/Rugolo                   Krohn Ferrari           2m04.746s
33.  GTE A  Belloc/Bourret/Gibon                   Larbre Corvette         2m05.748s
34.  GTE A  Ried/Roda/Ruberti                      Felbermayr Porsche      2m05.793s
35.  GTE A  Camathias/Palttala/Daniels             JWA Porsche             2m08.005s