IndyCar sure Fontana return can match Texas excitement after aero configuration testing
| | |
| --- | --- |
| By Matt Beer | Friday, August 24th 2012, 10:53 GMT |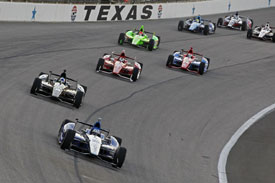 IndyCar believes its Fontana season finale will deliver the same quality of racing that saw its Texas round widely-praised, after three drivers tested aerodynamic packages at the California superspeedway on Thursday.
Ending the 'pack racing' that had become predominant on large ovals in recent seasons was a priority in the design of the new DW12 chassis introduced for 2012. These efforts were deemed successful after the first superspeedway race of the year at Texas in June.
On Thursday Josef Newgarden, Simon Pagenaud and Takuma Sato tested a potential aero spec for Fontana, using the same settings as at Indianapolis but with a rear wing wicker removed.
IndyCar's vice president of technology Will Phillips said that adjustments then had to be made after a challenging morning.
"None of drivers had been flat around the circuit in the morning," said Phillips. "It was a hot day and quite windy during the afternoon so it was challenging conditions.
"In the drivers' eyes, harder than Texas was in the race, so the conditions were very difficult. They thought it was a perhaps too hard and a bit more downforce was needed.
"During the course of the afternoon, I asked if they wanted to add the strakes to the package. Those that did felt that it put it in a similar state to Texas.
"As the track gripped up or cleaned up they would potentially be able to run flat for a few laps, and then tire degradation and traffic would take away that ability, which sounds very much like what occurred at Texas."
Schmidt-Hamilton driver Pagenaud ended the day encouraged about the chances of an entertaining and safe race at Fontana.
"I feel really good this year about the package for the ovals," he said. "The racing has been tremendous all year long. [The test] was a little bit difficult, I've got to say. If it was a little bit more downforce, I'm sure we could do some good, good racing."
Further multi-car tests will take place on 6 and 12 September before the 15 September race.