Mark Martin escapes frightening Michigan NASCAR Sprint Cup crash
| | |
| --- | --- |
| By Diego Mejia | Sunday, August 19th 2012, 23:47 GMT |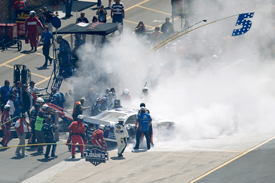 Mark Martin was fortunate to emerge unscathed after crashing into a pitwall opening while leading Sunday's NASCAR Sprint Cup race at Michigan.
The veteran was dominating after starting from pole position when Bobby Labonte, who was about to be lapped, lost control of his car ahead of him.
Earnhardt Ganassi's Juan Pablo Montoya, who was trying to remain on the lead lap, was right behind Labonte and slowed down in order to avoid the spinning Toyota, as did Martin and Kasey Kahne behind him.
Martin's MWR Toyota spun and slid across pitroad, hitting the edge of the inside pitwall with the left side of his car.
The barrier penetrated the car right behind the driver's compartment where the oil tank is placed, flames being ignited immediately while crews rushed with fire extinguishers.
"That was a pretty freak angle that I got at that," said Martin. "I'm not sure what you could do. It could have been really bad if I would have got in that hole a little deeper where it caught me in the door instead of in the crush area back there.
"It's hard to keep up with what exactly is going to be happening there. I was hoping that I was going to miss the pitwall completely and not tear the car up, but then I saw that the angle I was going that I was going to hit the end of pitwall.
"I never thought about getting on the other side of pitwall. I think that would have been hard at the angle that I was coming, but that certainly would not have been good."
NASCAR officials told reporters at Michigan they will review the incident in order to determine if any changes to pitroad are necessary.