Dyson fends off Pickett in epic Road America American Le Mans Series finish
| | |
| --- | --- |
| | Saturday, August 18th 2012, 23:51 GMT |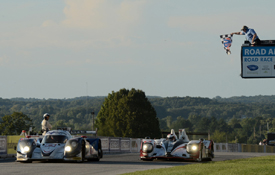 Dyson Racing finally scored its first outright win of the 2012 American Le Mans Series season as Guy Smith held off another remarkable comeback charge by the dominant Pickett HPD to take the closest victory in championship history.
Smith and team-mate Chris Dyson had been forced to start from the back of the grid after a gearbox problem in qualifying, and although Dyson was up to second within just nine laps, by that time Klaus Graf had already established a 45s advantage for Pickett, having led by 6s after only one lap.
Shortly afterwards, though, it all went wrong for Pickett as a water leak led to a four-lap delay, and left Graf and Lucas Luhr playing catch-up for the second time in three races.
A mix of on-track passes and yellows falling their way amazingly meant Luhr and Graf were able to repeat their Lime Rock achievement of recovering a four-lap deficit. But unlike at Lime Rock, this time the Dyson crew were able to hold them off.
The final full course caution brought Smith's advantage down to 13s with 19 minutes to go, and the HPD lapping up to 3s faster. They were nose to tail going into the final lap, yet Smith was able to use the Lola-Mazda's straightline speed to cling on and end Pickett's victory streak by the record margin of just 0.083s.
The second Dyson Lola-Mazda completed the overall podium, while LMP2 victory went to Conquest's Martin Plowman and David Heinemeier Hansson in fourth. Conquest kept Level 5 at bay for the majority of the race, and a late puncture for Christophe Bouchut left Plowman free to wrap up the win.
GT began as a battle between the two Flying Lizard Porsches and the #4 Corvette, then became a tussle between the two Corvettes and the #45 Porsche as various strategies played out, before the BMWs emerged in first and second by not pitting under the final yellow.
Jorg Muller and Bill Auberlen were able to both stretch their fuel mileage and resist their pursuers to claim the class win. Flying Lizard's Jorg Bergmeister and Patrick Long battled through to second, with Corvette's points leaders Oliver Gavin and Tommy Milner fourth behind the Scott Sharp/Johannes van Overbeek Extreme Speed Ferrari.
CORE Autosport wrapped up the LMPC teams' title with a one-two, led by Alex Popow and Tom Kimber-Smith. Alex Job Racing's Jeroen Bleekemolen and Cooper MacNeil edged out the JDX and #34 Green Hornet entries to win GTC.
Results - 101 laps:

Pos  Cl   Drivers                     Team/Car                    Time/Gap
 1.  P1   Dyson/Smith                 Dyson Lola-Mazda        4h01m48.009s
 2.  P1   Luhr/Graf                   Pickett HPD                 + 0.083s
 3.  P1   Marsal/Lux/Burgess          Dyson Lola-Mazda           + 47.275s
 4.  P2   Plowman/Heinemeier Hansson  Conquest Morgan-Nissan   + 1m04.709s
 5.  PC   Popow/Kimber-Smith          CORE FLM                     + 1 lap
 6.  PC   Bennett/Braun               CORE FLM                     + 1 lap
 7.  PC   Marcelli/Ducote/French      Merchant FLM                 + 1 lap
 8.  PC   Junqueira/Gonzalez          RSR FLM                      + 1 lap
 9.  P2   Dempsey/Foster              Dempsey Lola-Judd           + 2 laps
10.  PC   Richard/Ende                Dempsey FLM                 + 2 laps
11.  P2   Tucker/Bouchut              Level 5 HPD                 + 2 laps
12.  P2   Tucker/Diaz                 Level 5 HPD                 + 3 laps
13.  GT   Muller/Auberlen             RLL BMW                     + 4 laps
14.  GT   Bergmeister/Long            Flying Lizard Porsche       + 4 laps
15.  GT   Sharp/van Overbeek          Extreme Speed Ferrari       + 4 laps
16.  GT   Gavin/Milner                Corvette                    + 4 laps
17.  PC   Downs/Downs/Downs           Merchant FLM                + 4 laps
18.  GT   Miller/Maassen              Miller Porsche              + 4 laps
19.  GT   Magnussen/Garcia            Corvette                    + 4 laps
20.  GT   Sweedler/Bell               Alex Job Lotus              + 4 laps
21.  GT   Neiman/Holzer               Flying Lizard Porsche       + 5 laps
22.  GT   Wittmer/Farnbacher          SRT Viper                   + 5 laps
23.  GT   Muller/Summerton            RLL BMW                    + 6 laps*
24.  GT   Brown/Cosmo/Lazzaro         Extreme Speed Ferrari       + 6 laps
25.  GTC  MacNeil/Bleekemolen         Alex Job Porsche            + 8 laps
26.  GTC  Cumming/Ragginger           JDX Porsche                 + 8 laps
27.  GTC  LeSaffre/Faulkner           Green Hornet Porsche        + 8 laps
28.  GTC  Faieta/Avenatti             Competition Porsche         + 8 laps
29.  GTC  Sofronas/Welch/Villeneuve   GMG Porsche                 + 8 laps
30.  GTC  Huisman/Wong                Green Hornet Porsche       + 10 laps
31.  GT   Henzler/Sellers             Falken Porsche            + 26 laps*
32.  GTC  Benitez/Benitez             NGT Porsche                + 30 laps
33.  GTC  Di Guida/Pumpelly           TRG Porsche                + 32 laps

Retirements:

     GT   Goossens/Kendall            SRT Viper                    45 laps
     PC   Junco/Franchitti            PR1 Mathiasen FLM            23 laps

* Not running at finish