Nelson Piquet claims maiden NASCAR Truck Series victory
| | |
| --- | --- |
| By Diego Mejia | Saturday, August 18th 2012, 19:29 GMT |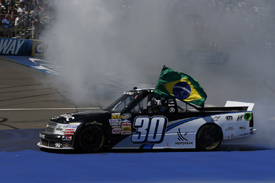 Nelson Piquet claimed his first career victory in the NASCAR Truck Series on Saturday at Michigan International Speedway.
The Brazilian had been a strong contender after qualifying, where he claimed a front-row starting spot. From there he was able to challenge for victory, leading from the second lap until pitting under the first caution of the day.
As the second half of the race unfolded Piquet's day almost ended against the barrier as he fought for the lead during a restart battle with former Sprint Cup champion Kurt Busch, who was driving for his brother Kyle's outfit. Piquet slid towards the inside wall but was able to avoid contact and remain in control despite dropping down the order.
The incident forced him to get out of sequence with the leaders as he needed to change all four tyres but he also took advantage of the unscheduled stop to top up with fuel again. That eventually allowed him to start playing the strategy gamble that then placed him back in position to fight for victory.
Once the leaders pitted for the last time under green, Piquet found himself at the front with a comfortable gap that he managed while stretching his fuel mileage further than his rivals, claiming his first Truck Series win.
'Piket' as the name at the top of the window opening read on his #30 Chevrolet Silverado, celebrated with the Brazilian flag and his Turner Motorsports crew after doing a burnout on the front-stretch, where his Truck finally ran out of fuel.
He dedicated his victory to his father Nelson, who he was honouring with a special helmet design as the three-time Formula 1 champion turned 60 on Friday.
"It's a little weight off my shoulders, something that the team has been fighting for a while," said Piquet. "The only thing I can say is I'm just living to what our family always did: win races, championships.
"Obviously I'm starting a whole different career to what my father did in Europe and it's something totally new in America, here in NASCAR. It's only the beginning."
Piquet's victory is his third of the year following wins in the NASCAR K&N East Series at Bristol and the Nationwide Series at Road America. He becomes only the second foreign driver ever to win a Truck race in the series' history.