Kahne not certain of landing Chase spot despite being leading wildcard candidate
| | |
| --- | --- |
| By Diego Mejia | Saturday, August 18th 2012, 09:00 GMT |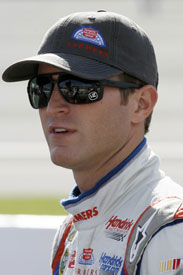 Kasey Kahne says he is not counting on having a place in this year's NASCAR Sprint Cup Chase despite currently being the leading candidate to claim a wildcard entry for play-off.
The Hendrick Motorsports drivers is currently 11th in the standings, almost a full race win in points away from breaking into the top 10, but the victories he claimed at Charlotte and Loudon make him the leader in the wildcard standings.
The top 10 drivers in points after 26 races automatically qualify for the championship play-off, while two extra spots are available for drivers with the most victories and placed between 11th and 20th in the championship.
Kahne is the only driver outside the top 10 with two wins, while another five drivers have a single victory and are placed behind him in the standings. Despite having the edge of an extra win, however, Kahne does not believe his place in the Chase is safe just yet.
"Myself, I don't feel like I'm locked in," Kahne said. "I don't feel like I'm really even that close to being locked in because of how quickly things can change in this sport.
"Two guys get on a roll and we fall off, we can be third [in the wildcard standings] no problem, pretty quick. So, there's a lot of scenarios that can keep us out of the wildcard. I don't really feel like we are there.
"Since the start of the season I feel like every three or four weeks we make a gain together as a team and these final three or four races are another opportunity for us to get better together.
"If we can do that, hopefully we will be in a great spot when those final 10 [races] start and be able to battle. I don't know if we are there yet, so I really feel like we need to bring our best stuff all the way through Bristol, Atlanta and Richmond."
Stewart-Haas' Ryan Newman, winner at Martinsville earlier this year, currently holds 13th place in the standings and the second wildcard spot.