Klaus Graf dominates Road America American Le Mans Series qualifying for Pickett Racing
| | |
| --- | --- |
| | Friday, August 17th 2012, 22:07 GMT |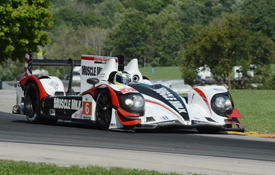 Pickett Racing's domination of the American Le Mans Series continued at Road America as a gearbox problem for the rival #16 Dyson Lola-Mazda left Klaus Graf to take an uncontested pole in Pickett's HPD.
With Chris Dyson and Guy Smith sitting out the session and destined to start at the back, Graf claimed pole by three seconds over Dyson's #20 car, driven by Eric Lux.
The other four classes were significantly more competitive. Just 0.6s covered the top seven GT cars around the four-mile track, although it was an all-Flying Lizard Porsche battle for pole. Marco Holzer sprang a surprise as he edged out team-mate Jorg Bergmeister by just 0.013s to put the team's less-fancied #44 car on top and claim his maiden ALMS pole. Points leaders Oliver Gavin and Tommy Milner will start next up in third for Corvette.
Conquest's Martin Plowman overcame Level 5's Christophe Bouchut for LMP2 pole. In the one-make classes, a big lap from Kyle Marcelli took Merchant Services clear of the LMPC pack, and Jeroen Bleekemolen held off Green Hornet driver Damien Faulkner to take GTC pole for Alex Job Racing.
Pos  Cl   Drivers                     Team/Car                Time
 1.  P1   Luhr/Graf                   Pickett HPD             1m50.191s
 2.  P1   Marsal/Lux/Burgess          Dyson Lola-Mazda        1m53.392s
 3.  P2   Plowman/Heinemeier Hansson  Conquest Morgan-Nissan  1m54.218s
 4.  P2   Tucker/Bouchut              Level 5 HPD             1m54.407s
 5.  P2   Tucker/Diaz                 Level 5 HPD             1m55.977s
 6.  PC   Marcelli/Ducote/French      Merchant FLM            1m57.172s
 7.  PC   Popow/Kimber-Smith/Bennett  CORE FLM                1m57.790s
 8.  PC   Junqueira/Gonzalez          RSR FLM                 1m57.829s
 9.  P2   Dempsey/Foster/Devlin       Dempsey Lola-Judd       1m58.150s
10.  PC   Junco/Franchitti            PR1 Mathiasen FLM       1m58.230s
11.  PC   Downs/Downs/Downs           Merchant FLM            1m59.498s
12.  PC   Richard/Ende                Dempsey FLM             1m59.874s
13.  GT   Neiman/Holzer               Flying Lizard Porsche   2m04.415s
14.  GT   Bergmeister/Long            Flying Lizard Porsche   2m04.428s
15.  GT   Gavin/Milner                Corvette                2m04.871s
16.  GT   Muller/Auberlen             RLL BMW                 2m04.913s
17.  GT   Magnussen/Garcia            Corvette                2m04.921s
18.  GT   Sharp/van Overbeek          Extreme Speed Ferrari   2m04.994s
19.  GT   Muller/Summerton            RLL BMW                 2m05.098s
20.  GT   Henzler/Sellers             Falken Porsche          2m06.640s
21.  GT   Sweedler/Bell               Alex Job Lotus          2m07.177s
22.  GT   Miller/Maassen              Miller Porsche          2m07.182s
23.  GT   Wittmer/Farnbacher          SRT Viper               2m08.556s
24.  GT   Goossens/Kendall            SRT Viper               2m09.609s
25.  GT   Brown/Cosmo                 Extreme Speed Ferrari   2m10.588s
26.  GTC  MacNeil/Bleekemolen         Alex Job Porsche        2m12.773s
27.  GTC  LeSaffre/Faulkner           Green Hornet Porsche    2m12.804s
28.  GTC  Huisman/Wong                Green Hornet Porsche    2m13.339s
29.  GTC  Benitez/Benitez             NGT Porsche             2m14.020s
30.  GTC  Di Guida/Pumpelly           TRG Porsche             2m14.039s
31.  GTC  Cumming/Ragginger           JDX Porsche             2m14.717s
32.  GTC  Faieta/Avenatti             Competition Porsche     2m14.744s
33.  GTC  Sofronas/Welch/Villeneuve   GMG Porsche             2m14.891s
34.  PC   Bennett/Braun               CORE FLM
35.  P1   Dyson/Smith                 Dyson Lola-Mazda