Juncadella boosts F3 Euro Series title hopes with a brace of poles at the Nurburgring
| | |
| --- | --- |
| | Friday, August 17th 2012, 15:17 GMT |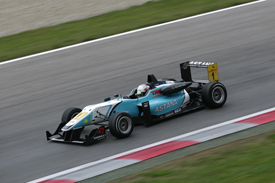 Daniel Juncadella gave his Formula 3 Euro Series title hopes a welcome boost by taking a pair of pole positions for this weekend's triple-header at the Nurburgring.
The 21-year-old Spaniard, who leads the standings with half the season gone, took his Prema Powerteam Dallara-Mercedes around the short version of the German circuit in 1m23.096s to claim the top spot overall and pole for Sunday morning's third race.
That marker, set with three minutes remaining, was then followed-up with a 1m23.240s to ensure that his second-best time was also the quickest of anybody, ensuring pole for Saturday morning's opener as well.
In fact, Juncadella's second-best time was faster than anybody else's overall best, meaning that the 1m23.289s set by long-time session leader Felix Rosenqvist was only good enough to give the Mucke driver second place on the grid for race three and third for the opener.
The sensation of the session was Juncadella's Prema team-mate Sven Muller, who stole a spot on the front row for race one and third for race three, despite having sustained a hairline fracture in his right elbow less than three weeks ago in a crash at Spa.
Juncadella's team-mate and title rival Raffaele Marciello, who leads the FIA European F3 Championship - of which the Nurburgring weekend is also a round - took a fourth and a fifth, as did Mucke's Pascal Wehrlein.
Carlin's Will Buller had to make do with sixth and ninth spots while his team-mate Carlos Sainz Jr had a pair of sevenths. These, and Jazeman Jaafar, who is not registered for points, were the best of the drivers using Volkswagen power.
Alexander Sims, who is making his first F3 appearance of the year with T-Sport, traded the top spot with Rosenqvist early on, but ended up with a pair of eighths in his Nissan-engined Dallara.
As usual, the grid for race two will be based on the race one finishing order, with the top eight reversed for the start.
Race one qualifying:

Pos  Driver               Team/Car               Time       Gap
 1.  Daniel Juncadella    Prema Dallara-Merc      1m23.212s      
 2.  Sven Muller          Prema Dallara-Merc      1m23.413s  + 0.201s
 3.  Felix Rosenqvist     Mucke Dallara-Merc      1m23.434s  + 0.222s
 4.  Pascal Wehrlein      Mucke Dallara-Merc      1m23.464s  + 0.252s
 5.  Raffaelle Marciello  Prema Dallara-Merc      1m23.510s  + 0.298s
 6.  Jazeman Jaafar       Carlin Dallara-VW       1m23.557s  + 0.345s
 7.  Carlos Sainz Jr      Carlin Dallara-VW       1m23.604s  + 0.392s
 8.  Alexander Sims       T-Sport Dallara-Nissan  1m23.607s  + 0.395s
 9.  Will Buller          Carlin Dallara-VW       1m23.693s  + 0.481s
10.  Michael Lewis        Prema Dallara-Merc      1m23.746s  + 0.534s
11.  Emil Bernstorff      Ma-con Dallara-VW       1m23.836s  + 0.624s
12.  Tom Blomqvist        Ma-con Dallara-VW       1m23.862s  + 0.650s
13.  Andrea Roda          Jo Zeller Dallara-Merc  1m24.552s  + 1.340s
14.  Luis Sa Silva        Angola Dallara-Merc     1m24.784s  + 1.572s
15.  Lucas Wolf           URD Dallara-Merc        1m24.801s  + 1.589s
16.  Sandro Zeller        Jo Zeller Dallara-Merc  1m25.254s  + 2.042s
17.  Spike Goddard        T-Sport Dallara-Mugen   1m27.294s  + 4.082s

Race three qualifying:

Pos  Driver                Team/Car                Time       Gap
 1.  Daniel Juncadella     Prema Dallara-Merc      1m23.096s
 2.  Felix Rosenqvist      Mucke Dallara-Merc      1m23.289s  + 0.193s
 3.  Sven Muller           Prema Dallara-Merc      1m23.337s  + 0.241s
 4.  Raffaelle Marciello   Prema Dallara-Merc      1m23.364s  + 0.268s
 5.  Pascal Wehrlein       Mucke Dallara-Merc      1m23.376s  + 0.280s
 6.  Will Buller           Carlin Dallara-VW       1m23.440s  + 0.344s
 7.  Carlos Sainz Jr       Carlin Dallara-VW       1m23.511s  + 0.415s
 8.  Alexander Sims        T-Sport Dallara-Nissan  1m23.538s  + 0.442s
 9.  Jazeman Jaafar        Carlin Dallara-VW       1m23.545s  + 0.449s
10.  Michael Lewis         Prema Dallara-Merc      1m23.599s  + 0.503s
11.  Tom Blomqvist         Ma-con Dallara-VW       1m23.660s  + 0.564s
12.  Emil Bernstorff       Ma-con Dallara-VW       1m23.762s  + 0.666s
13.  Andrea Roda           Jo Zeller Dallara-Merc  1m24.336s  + 1.240s
14.  Luis Sa Silva         Angola Dallara-Merc     1m24.722s  + 1.626s
15.  Lucas Wolf            URD Dallara-Merc        1m24.739s  + 1.643s
16.  Sandro Zeller         Jo Zeller Dallara-Merc  1m25.089s  + 1.993s
17.  Spike Goddard         T-Sport Dallara-Mugen   1m26.804s  + 3.708s