| | |
| --- | --- |
| Jorge Lorenzo: Yamaha wall will not return despite Valentino Rossi coming back | |
| | |
| --- | --- |
| By Sam Tremayne and Toby Moody | Friday, August 17th 2012, 09:50 GMT |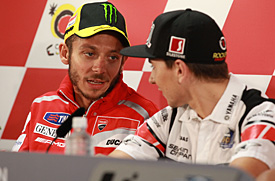 Jorge Lorenzo says there will be no repeat of the animosity which led to a wall being erected between himself and Valentino Rossi when they were Yamaha team-mates previously.
After labelling Rossi's return as a welcome boost to his own motivation, Lorenzo repeated his 'pleasure' at the Italian's comeback.
He also insisted there would be no bad blood this time around, with his main priority securing the world championship rather than prevailing over his team-mate.
"I think it's interesting to see how we can handle again Valentino and me on the same team and the same bike, [and] to see what is going on. And for me, it's a big pleasure to be team-mate with him again," Lorenzo said.
"I always said the wall is a stupid thing. It doesn't make sense for anything. No wall is OK for me and I think for Vale this time!
"I don't have any problem with anybody. I like to have a good relationship with everybody in the paddock. I have a lot of respect for Valentino. So maybe if he asked me for some favour, I will give him.
"Yeah, maybe one of my challenges will be again to beat Valentino, but it's not the main one. The main one is to again be world champion this year and the next two years."
Lorenzo added that Yamaha does not have a history of favouring one rider, and that he was aware of the possibility of Rossi rejoining Yamaha before he had opted to extend his contract with the team.
"Yamaha never have a number one rider [being] given the best performance bike or the best pieces, no. So it will never be different, I think," he said of Rossi's return.
"To be honest, I really think if I negotiate in the contract, if I say not to sign some rider, I will have him. But anyway, I never cared about my team-mate, I will not care in the future.
"For me it is a pleasure to be again with Valentino, two more years with the same bike. I would like Casey to come back to Ducati. It would be kind of funny for sure, but I don't think this is possible... So for me, everything is positive."