Juan Pablo Montoya takes second successive NASCAR Sprint Cup pole at Watkins Glen
| | |
| --- | --- |
| By Diego Mejia | Saturday, August 11th 2012, 18:39 GMT |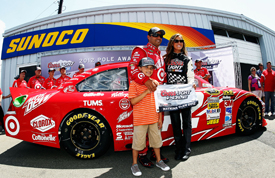 Juan Pablo Montoya claimed his second consecutive NASCAR Sprint Cup pole position in qualifying for Sunday's race at Watkins Glen.
The Colombian, a winner at the track two years ago, set a new track record with a time of 1m09.438s, which placed him more than half a second clear of the previous benchmark set by Michael Waltrip Racing's Clint Bowyer.
Later both Joe Gibbs Racing's Kyle Busch and Hendrick Motorsports' Jimmie Johnson were able to run within less than a tenth of the Earnhardt Ganassi driver, ending up second and third respectively in the 43-car field.
Montoya started from pole last week at Pocono but strategy and circumstances played a part in his feat. This time he is confident he can really contend for his first win of the season.
The last time he set consecutive poles was in his final full season in Formula 1 back in 2005, driving a McLaren to the top spot at Monza and then Spa Francorchamps, where he set his 13th and final F1 pole position.
"Last week I knew we were going to struggle," Montoya said after setting his ninth Cup career pole. "Our race pace in practice was horrible. When we went out and put it on pole I was like 'yeah!', you know, one of those 'how did that happen?'
"This week we've genuinely been good all weekend. We did the Michigan test and I felt we gained a lot on the car. We put some more in Pocono, ran better, [but] we missed our race set-up completely and we knew we did when I got into Turn 1 on the first lap...
"I think this week we can contend. A few guys are really, really strong and you've got to run your own race and save the brakes. Having track position is a good thing because you can do it smart and see what it brings us."
Having looked strong during practice, Penske's Brad Keselowski, who finished second at the Glen a year ago, claimed his best ever Cup starting spot on a road course with fourth, ahead of last year's race-winner Marcos Ambrose.
Stewart-Haas' Ryan Newman was sixth fastest ahead of his team-mate Tony Stewart, a favourite to contend for a sixth win at the Glen on Sunday. Bowyer, his MWR team-mate Martin Truex and Montoya's team-mate Jamie McMurray rounded out the top 10.
Points leader Dale Earnhardt Jr was 16th fastest, behind the quickest of the non-guarenteed drivers Michael McDowell, who was an impressive 11th.
Denny Hamlin and Jeff Burton had to switch to their back-up cars after crashing during the opening practice session on Friday, losing control while driving over oil left from Patrick Long's car.
The weekend's schedule was modified due to morning rain and the second practice, which was also scheduled for Friday, took place very early on Saturday morning.
Pos  Driver                Team/Car                     Time       Gap
 1.  Juan Pablo Montoya    Earnhardt Ganassi Chevrolet  1m09.438s
 2.  Kyle Busch            Joe Gibbs Toyota             1m09.488s  + 0.050s
 3.  Jimmie Johnson        Hendrick Chevrolet           1m09.490s  + 0.052s
 4.  Brad Keselowski       Penske Dodge                 1m09.654s  + 0.216s
 5.  Marcos Ambrose        Petty Ford                   1m09.710s  + 0.272s
 6.  Ryan Newman           Stewart-Haas Chevrolet       1m09.827s  + 0.389s
 7.  Tony Stewart          Stewart-Haas Chevrolet       1m09.917s  + 0.479s
 8.  Clint Bowyer          Waltrip Toyota               1m09.966s  + 0.528s
 9.  Martin Truex Jr       Waltrip Toyota               1m09.973s  + 0.535s
10.  Jamie McMurray        Earnhardt Ganassi Chevrolet  1m10.023s  + 0.585s
11.  Michael McDowell      Parsons Ford                 1m10.160s  + 0.722s
12.  Jeff Gordon           Hendrick Chevrolet           1m10.199s  + 0.761s
13.  Regan Smith           Furniture Row Chevrolet      1m10.216s  + 0.778s
14.  Joey Logano           Joe Gibbs Toyota             1m10.269s  + 0.831s
15.  Greg Biffle           Roush Fenway Ford            1m10.270s  + 0.832s
16.  Dale Earnhardt Jr     Hendrick Chevrolet           1m10.279s  + 0.841s
17.  Sam Hornish Jr        Penske Dodge                 1m10.324s  + 0.886s
18.  Carl Edwards          Roush Fenway Ford            1m10.330s  + 0.892s
19.  Kevin Harvick         Childress Chevrolet          1m10.341s  + 0.903s
20.  Kasey Kahne           Hendrick Chevrolet           1m10.369s  + 0.931s
21.  Scott Speed           Leavine Ford                 1m10.372s  + 0.934s
22.  Paul Menard           Childress Chevrolet          1m10.448s  + 1.010s
23.  Denny Hamlin          Joe Gibbs Toyota             1m10.515s  + 1.077s
24.  Matt Kenseth          Roush Fenway Ford            1m10.607s  + 1.169s
25.  Boris Said            FAS Lane Ford                1m10.678s  + 1.240s
26.  Bobby Labonte         JTG Daugherty Toyota         1m10.721s  + 1.283s
27.  Kurt Busch            Phoenix Chevrolet            1m10.869s  + 1.431s
28.  Jeff Burton           Childress Chevrolet          1m11.010s  + 1.572s
29.  Aric Almirola         Petty Ford                   1m11.022s  + 1.584s
30.  Casey Mears           Germain Ford                 1m11.054s  + 1.616s
31.  Dave Blaney           Baldwin Chevrolet            1m11.067s  + 1.629s
32.  David Ragan           Front Row Ford               1m11.205s  + 1.767s
33.  Brian Vickers         Waltrip Toyota               1m11.296s  + 1.858s
34.  David Gilliland       Front Row Ford               1m11.373s  + 1.935s
35.  Landon Cassill        BK Toyota                    1m11.434s  + 1.996s
36.  Joe Nemechek          NEMCO Toyota                 1m11.454s  + 2.016s
37.  JJ Yeley              Baldwin Chevrolet            1m11.550s  + 2.112s
38.  Josh Wise             Front Row Ford               1m11.982s  + 2.544s
39.  Stephen Leicht        Circle Sport Chevrolet       1m12.097s  + 2.659s
40.  Chris Cook            Humphrey Smith Toyota        1m14.193s  + 4.755s
41.  Jason Leffler         Robinson-Blakeney Toyota     1m14.279s  + 4.841s
42.  Patrick Long          Inception Toyota             1m15.031s  + 5.593s
43.  Travis Kvapil         BK Toyota