Dale Earnhardt Jr ready to gamble to get more wins before NASCAR Chase
| | |
| --- | --- |
| By Diego Mejia | Saturday, August 11th 2012, 10:51 GMT |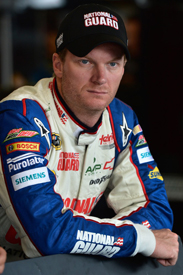 Dale Earnhardt Jr says his Hendrick team can afford to take some gambles in the next few NASCAR Sprint Cup races to try and get more wins and bonus points before the title play-off.
Earnhardt continues to lead the Cup points standings with just five races to go before the Chase for the championship starts, but having taken just one win - at Michigan in June - means he is set to drop behind drivers who have won multiple races under the bonus scores system.
The 37-year-old believes there is little to lose and potentially a lot to gain for his title bid if he and Hendrick take more risks in the pre-Chase run-in.
"We feel like that in the position we are in now, we can gamble a lot more," said Earnhardt. "Not be foolish, but we could try to stretch the car on fuel mileage and places like that to try to win races like a lot of these guys do.
"We just kind of played it safe and made sure we were going to make the Chase. That's the first thing. You don't want to miss the Chase being foolish. Now we feel like we've got a good position to do that, these last few races we can kind of just throw it all out there. If we fall back in points because we made a few mistakes, and some gambles didn't pay off it's not a big deal.
"We know what kind of season we've had and we know we've got a lot to be proud of. I think mentally we can go into the Chase pretty excited about our chances. Hopefully we can make some of those gambles pay off though and things will work out in a positive way and we'll win some races before the Chase starts."
This weekend's Cup round takes place at Watkins Glen. Earnhardt's road-course record is not one of the best among the likely Chase contenders, with his best results at the Glen two top-five finishes.