European Commission announces it will investigate recent government intervention to help the Nurburgring
| | |
| --- | --- |
| By Pablo Elizalde | Wednesday, August 8th 2012, 14:17 GMT |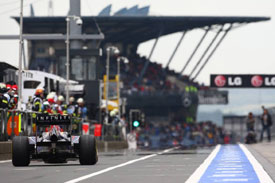 The European Commission has extended the scope of its investigation into the aid granted to the Nurburgring circuit to help avoid insolvency.
After weeks of uncertainty about the future of the track, which faced bankruptcy following a failed revamp project, the Nurburgring and the companies operating it received additional public support measures earlier this year.
The measures included a rescheduling of interest payments on previous loans among other things.
The European Commission has announced it is stepping up its investigation into "several additional financial measures aimed at avoiding an immediate insolvency of the companies concerned" amid fears that the measures were not granted on market terms.
"At this stage, the Commission has doubts that the measures were granted on market terms and that the companies are viable without continued state support," said the EC in a statement.
"The extension of an in-depth investigation gives interested third parties an opportunity to comment on the additional measures under assessment; it does not prejudge the outcome of the investigation.
"The Commission is concerned that Nurburgring may already have been a company in difficulties in 2008, when it received the previous aid. Because of its highly distortive effects on competition, rescue or restructuring aid to a company in financial difficulties may be granted to a given company only once in a period of 10 years.
"The Commission will now investigate whether these repeated public interventions were in line with EU state aid rules."