NASCAR hopes Dodge returns again
| | |
| --- | --- |
| By Diego Mejia | Tuesday, August 7th 2012, 20:34 GMT |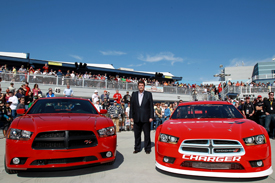 Brian France hopes Dodge makes another return to NASCAR in the future, following the announcement that is withdrawing at the end of the year.
NASCAR's CEO praised Dodge's legacy in the sport in a statement and reminded how the manufacturer's decision was similar to that of 1977 when it first pulled out before returning 24 years later.
"Dodge has been a great partner to NASCAR for many years, and they have been part of numerous memorable moments throughout our history," said France. They made a business decision not to return in 2013, as they did in 1977 before returning in 2001. We wish them well and hope they again will choose to return to NASCAR at a later date.
"Our fans have a passion for cars and emotional connections to particular manufacturers, and that's why in 2013 we will debut new race car designs that are modeled after each manufacturer's production cars. This change is a direct result of feedback from our fans, who are the most brand loyal in all of sports."
Ralph Gilles, President and CEO of Dodge's Street and Racing Technology brand (SRT), who announced the decision Tuesday afternoon in a teleconference, didn't close the door on a possible return in the future if it's able to find the right partner to build the structure that allows it to be in position to win again.
He revealed that development of the 2013 Dodge Cup car had been evolving positively until just a few days ago before the decision was taken last Friday to withdraw at the end of the year.
"Of course we'll never say never," said Gilles when asked about a possible quick return to NASCAR. "But as you now it's very scarce right now, it's a very tough situation in North Carolina.
"If we did something like that it would have to be quite a significant effort. We'll have to look at that. We'll get back to you as our plans unfold but for now we're just talking about 2013."