Sauber says Ferrari remains the preferred engine supplier for 2014 F1 season
| | |
| --- | --- |
| By Edd Straw and Sam Tremayne | Tuesday, August 7th 2012, 11:03 GMT |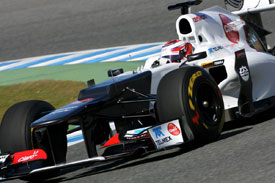 Sauber CEO Monisha Kaltenborn says Ferrari remains the team's preferred engine supplier for 2014, when Formula 1 is set to switch to turbocharged 1.6 litre V6s.
While that change could lead to a considerable shake-up of the current order, Kaltenborn believes the most logical option would be to have talks with Ferrari first about extending their engine partnership.
She did however admit that financial concerns would be a major influence on future decisions.
"There is nothing in place, [but] it is a logical step for us to first go and talk to our current engine partner, because we do have a long history together," Kaltenborn explained.
"But all is open because I don't think they themselves know about certain conditions. We have to wait.
"Our position, I think as all customer teams have made clear, is that the financial aspect is very important for us. We don't want to return to the times when you paid so much more than today for the engine.
"They [engine suppliers] will make it anyway, so I think you have to find an equitable solution for customers and for suppliers on what you can do on the pricing and developments costs."
Kaltenborn also played down talk of a potential wide-ranging partnership with VW, insisting that a recent meeting between Sauber and the German giant had not resulted in ongoing discussions.
"We were asked about a meeting, and we confirmed it took place in Geneva, and that is it, there is nothing further to say. There are no further talks," she said.
"If we want to increase our competitiveness, it is one of our targets to have a strong partner, and the strength of the partner matters. [But] we are definitely not talking to them [VW] now."
Asked about Sauber's potential driver line-up for the 2013 season, and whether the team could ever be interested in welcoming Felipe Massa back, Kaltenborn added: "At the moment two drivers interest me, and they are the ones driving our car.
"We always announce on a yearly basis and this year we don't see ourselves in any rush. We can still manage a lot and the drivers we have play a key role in that. Not soon, for sure [a decision].
"Our drivers did a very good job this winter [helping us] focus on developing the weaknesses in the car. We will follow the same strategy for next year, there are no drastic changes - and no need to do everything again."