Roger Penske wants to talk with AJ Allmendinger about his future
| | |
| --- | --- |
| By Glenn Freeman | Monday, July 30th 2012, 15:19 GMT |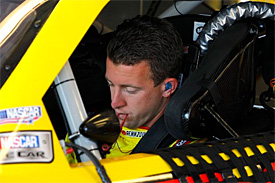 Roger Penske has promised to sit down with his banned NASCAR driver AJ Allmendinger to discuss their future in the wake of the latter's failed drugs test.
Allmendinger is currently indefinitely suspended from racing by NASCAR after testing positive for a banned substance.
Speaking at Indianapolis last weekend, team boss Penske said that he had been in regular contact with the 30-year-old, and added that the two need to have a face-to-face discussion.
"At this point, from my perspective, I've got a very open mind," said Penske. "But I want to sit down with him, which is the only fair way to do it, and determine what is the best thing for the team and what is the best thing for him.
"We haven't gone silent. We've talked to him every day and tried to keep his spirits up. But he realises it's a serious situation. Obviously we have a lot invested in him to this date, and he has a lot invested in the sport.
"And I want to see him land on his feet, but I've got to look at things from the overall standpoint."
Penske said that Allmendinger's future at the team is far from clear, even if he does sympathise with his driver.
"There are so many questions, does he keep the ride, does he not?" he said. "We don't know when he's going to be back. We have sponsor obligations; he has a year contract with us. There are a lot of things happening.
"I said to him, 'there are people a lot bigger than you are who have had serious situations and bounced back'. Let's take it as a speed bump and see where we go from here.
"I hope that he'll rebound and have a successful career, because he's a terrific kid. It almost feels like it's one of your kids, that's what makes it so tough."
Penske added that he wants to avoid Allmendinger's vacated #22 Dodge from becoming "a rotating seat" in his absence.
Former IndyCar champion Sam Hornish has driven the car in the three races since Allmendinger's suspension started, but Penske admitted that "our phone is ringing off the hook with people who are interested in the ride in the #22".