Hamilton convinced he can still win title after Hungarian Grand Prix victory
| | |
| --- | --- |
| By Jonathan Noble and Matt Beer | Sunday, July 29th 2012, 14:34 GMT |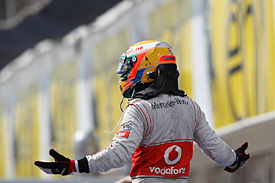 Lewis Hamilton says his Hungarian Grand Prix victory shows it is still possible for him to win the 2012 Formula 1 world title, despite remaining 47 points behind leader Fernando Alonso.
Hamilton's second win of the season came after a run of three races in which he had scored just four points, but triumphing at the Hungaroring reduced his championship deficit from 62 to 47 points.
The McLaren driver is now fourth in the standings.
"This weekend shows it is all to play for still," said Hamilton. "Not enough points taken for Fernando. If we can continue this kind of performance we can catch up.
"We need consistency and we need to improve the car still in many areas and I am sure we will do that."
He admitted it was psychologically important to get back on the top step of the podium before the summer break.
"It is nice to go into the break knowing that we have had a win," said Hamilton. "It is a great feeling. It is very, very important how I manage the summer break.
"We have clearly still got a lot of work to do. We should take from this a good pat on the back, but we should know we have a lot of work to do."
Hamilton reckons he was only able to beat chasing Lotus duo Kimi Raikkonen and Romain Grosjean in Hungary because he had started in front.
"These guys were rapid," he said. "If they had qualified at the front it would have been impossible to get past them."
He said that winning under constant pressure made this victory particularly satisfying, and that he was pleased with how he had been able to manage the situation.
"When you win like this when under intense pressure from great drivers like Romain and Kimi, this is the kind of day when you have to have your mind 100 per cent," Hamilton said. "I feel great, because the team didn't flinch and neither did I."
Hamilton added: "It was never really close. I allowed them to close up in certain corners so that he may have problems with his tyres. I just made sure I saved my speed for the last sector so I had a big enough gap in the last three corners."