Carl Edwards expects seamless crew chief change
| | |
| --- | --- |
| By Diego Mejia | Saturday, July 28th 2012, 16:41 GMT |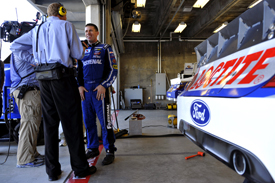 Carl Edwards says an unexpected crew chief change ahead of this week's Brickyard 400 at Indianapolis should not hamper his chances of getting into the NASCAR Sprint Cup Chase.
The 2011 Cup runner-up is currently 11th in the points without a win thus far, which would put him out of contention for this year's title as he needs to either move into the top 10 in the standings or claim victories to enter the play-off as a wildcard.
Edwards is getting a new Cup crew chief for the first time since 2007 as Bob Osbourne stepped down from the role due to health issues last week. Together they achieved all of Edwards' 19 Cup victories since 2005, the most recent happening last year at Las Vegas. Chad Norris will take Osbourne's place.
"We all know what is on the line and we know that if we can make the Chase and turn this thing around we can go with the championship," said Edwards. "We feel like each one of these races is as important as Homestead was last year.
"We feel like with our experience we can do this. Those are the motivating factors. I don't think it is simply the crew chief change. It is the entire package.
"You have to peak really at the right time. You have to be fast when it is time to be fast. Right now, we have seven races to build everything up and shine in this Chase. I hope that our team is on the upswing."
Edwards expects to have a seamless transition to his new crew chief Norris and is optimistic that they can hit the ground running and claim the kind of results that they need to secure a spot in this year's Chase.
"I think with the structure at Roush and the way we have done things I don't expect to miss a beat with Chad here," said Edwards. "We talked a lot here this last week and even through the off weekend and I don't think that there is really much of a learning curve.
"Chad works so well with all the guys and has worked in the R&D department and headed up so many different projects. He has been around the sport a long time... The kind of guy he seems to be and the way the guys have embraced him, I think we will be pretty good."