Hamilton wary of Lotus's long-run pace after securing pole position for the Hungarian GP
| | |
| --- | --- |
| By Jonathan Noble and Sam Tremayne | Saturday, July 28th 2012, 14:06 GMT |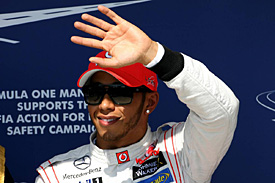 Lewis Hamilton hopes the upgrade package McLaren introduced at the German Grand Prix will help the team cope with the long-run pace of Lotus and Red Bull.
While the Briton's own race at Hockenheim was spoiled by a puncture, the team showed impressive race pace in the form of Jenson Button's charge to second.
Hamilton says such improvements will be vital in order to hold off Lotus and Red Bull, both of which have a reputation for being kind to the tyres, on the abrasive surface of the Hungaroring.
Lotus's Romain Grosjean will start alongside Hamilton.
"There is no real secret [to Sunday's race], it is the same as anyone else," Hamilton said. "You have to keep your head cool and make sure you look after your tyres. Tyre strategy will be important tomorrow, and degradation will be interesting.
"I didn't do any long runs this morning, I did mine yesterday [and] they were pretty good. The track was a little bit greener yesterday so its difficult to compare. We know Lotus is long through long runs and so is the Red Bull, so we just need to focus on us.
"Jenson showed those [German GP] upgrades are an improvement and hopefully I can show the same thing tomorrow. We have a long race tomorrow so lots can happen, but we need to keep cool."
Hamilton said the upgrades allowed him to push harder than he has been able to in recent grands prix, 'empowering' him throughout qualifying.
"It has been a really positive weekend so far, [we can] finally see the upgrades working this weekend, being able to put car in places I previously wasn't able to," he reported.
"I am always striving for the perfect lap, and to get that is intense and exciting and if you get it right it is incredibly empowering. This weekend we have obviously had pace, we knew it was possible but it was just a case of doing it.
"Considering we have had pace all weekend, [missing pole] would have been disappointing, so I am happy I have done it.
"This is motor racing - we are not saying we are relaxed about it, we know we have a lot of work to do. We [need to] make sure we start that work this weekend."