McLaren's Sam Michael intrigued about how strictly FIA will deal with off-track gains in Hungary
| | |
| --- | --- |
| By Jonathan Noble | Friday, July 27th 2012, 12:38 GMT |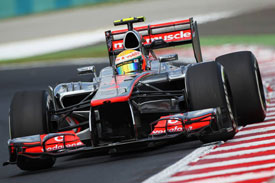 McLaren sporting director Sam Michael says he is intrigued about how strict the FIA will be in dealing with drivers who run off track during qualifying for the Hungarian Grand Prix.
With a fresh focus on drivers gaining an advantage after leaving the confines of the circuit, following Sebastian Vettel's German GP penalty for overtaking Jenson Button, Michael believes the matter could come up again over the Hungaroring weekend.
With a lot of asphalt run off areas around the circuit which offer drivers the opportunity to run wide if they go through a corner too fast, Michael says it will be interesting to see how the governing body deals with any indiscretions.
"Maybe people are focusing on it more considering what happened at the last race, but there are at least four places here where you can [run] off," he explained.
"So it will be interesting to see how strict that will be applied, especially during qualifying. In days gone by there was gravel, and then we went through a process of 'grasscrete' that was very slippery, and now it is just concrete - which does actually have grip."
With FIA's regulations this year stating no driver can gain an advantage when all four wheels are off track, Michael says the FIA has no choice but to keep a close eye on what drivers are doing.
"They have to police it, because you have the track defined. You have to stick to the track. But the issue is, should the surface off the track have so much grip? That is the bigger issue, because you want to have a surface that allows you to survive and get back on track, but definitely you don't want a surface that allows you to take advantage."
Reflecting on what happened to Vettel in Germany in his incident with Button, Michael said that if the positions had been reversed, then he would have ordered his driver to give back the position.
"Absolutely, without question," he said. "Our position would be, if you take advantage when you go off track then you have to give it back immediately. There is no point having a discussion about it, if it is as clear as that."