Lewis Hamilton unmoved by Dennis's comments regarding his future at McLaren
| | |
| --- | --- |
| By Jonathan Noble | Friday, July 27th 2012, 10:00 GMT |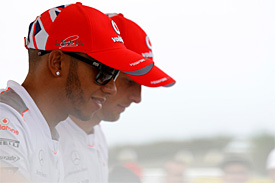 Lewis Hamilton is unmoved by comments from Ron Dennis that it is McLaren and not himself who holds the key to a fresh deal for next year.
Hamilton has little option but to recommit to McLaren for at least one more year, with options elsewhere appearing to be drying up now that Mark Webber has signed for another season at Red Bull Racing.
That situation has weakened Hamilton's bargaining position in trying to secure a big-money deal, especially with McLaren openly admitting that the current worldwide financial situation means his new contract will not be as lucrative as the last one.
Dennis, who is now chairman of the McLaren Group, told BBC Radio 5 Live ahead of the Hungarian Grand Prix that he expected Hamilton to stay for 2013 - and suggested that McLaren would ultimately decide the terms of any deal.
"There is no reason Lewis won't be driving our cars in the future," he said. "I think people get a little wrong impression. When I last looked at the contract, I was paying him.
"So it is a question of whether we employ him not the other way around. If things pan out the way I expect them to, I am pretty sure he will be sat in a McLaren next year."
Hamilton had little reaction to Dennis' comments however, suggesting that he was happy to bide his time and that any talks he had would be with McLaren team principal Martin Whitmarsh.
"I don't even know what Ron has been saying so I don't know what questions he has been asked," he told the British media.
"It's not really for me to comment on. It has nothing to do with me particularly what he says. Martin is my boss. I'm relaxed. At some stage we'll talk.'