Whitmarsh says "no stupidity" in Hamilton's move on Vettel in German GP
| | |
| --- | --- |
| By Edd Straw | Sunday, July 22nd 2012, 17:30 GMT |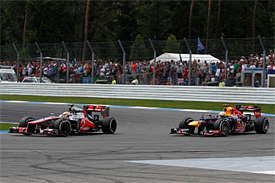 McLaren team principal Martin Whitmarsh has defended Lewis Hamilton after he was accused of pulling a "stupid" move when unlapping himself during the German Grand Prix.
Hamilton lost time early in the race with a puncture, but emerged from the pits behind Vettel, who was chasing Fernando Alonso for the lead and decided to unlap himself on the Red Bull driver.
"Racing drivers race," said Whitmarsh. "He was quicker, he overtook and he pulled away, so I'm not sure what stupidity there is in that."
After emerging from the pits, Hamilton could either have backed off and let team-mate Jenson Button past after being shown a blue flag, or push on and unlap himself.
Sporting director Sam Michael explained that there was no problem with what Hamilton did and that the team told him to go past Vettel.
"It was completely legal," said Michael when asked by AUTOSPORT about the incident. "He came out and he was fast. We said to him that you've got blue flags for Jenson.
"When you get a blue flag, you have two choices. You let the car past, or you speed up significantly.
"So we told him to speed up significantly and overtake Vettel and he did so. He didn't hold Vettel up at all because Vettel couldn't keep up with him. So it didn't have any material impact on Vettel's race and it's completely legal."
Whitmarsh believes that although Hamilton had a disappointing day, retiring from the race late on while running outside the points, his performance was encouraging.
"It was a deeply frustrating day for Lewis and I am sure he will be frustrated for the rest of this day," said Whitmarsh.
"But he'll know the car is quicker and he has been driving well in dry conditions and recognise that we have had good races in Hungary and he'll be going there wanting to win."