Williams' Mark Gillan ready to react to evolving dry track in German Grand Prix
| | |
| --- | --- |
| By Glenn Freeman | Sunday, July 22nd 2012, 07:58 GMT |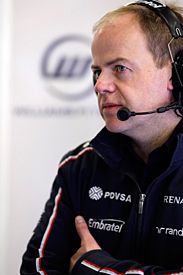 The lack of dry free practice running ahead of the German Grand Prix means that teams will have to be adaptable during the race, according Williams's Mark Gillan.
Rain hit all three of the practice sessions over Friday and Saturday, and the majority of teams admitted that they did not do any race simulation work during the periods when the track was dry.
Williams chief operations engineer Gillan believes that most on the grid will go into the race with similar strategies in mind, but with Sunday's weather much better than the previous two days, they will have to be prepared to react quickly if things start panning out differently to what is expected.
"With such changing conditions it's difficult to put together a programme where you can do your normal running," said Gillan. "I don't think it will change the strategies, but it will mean people who go down a certain route might have to react differently to what they initially thought.
"They may go in with the same strategy as everyone else but have to bail out because they haven't seen what they needed to on Friday. So you just have to react accordingly."
Gillan believes that the sensitivity of the Pirelli tyres to temperature changes means that it is almost impossible for teams to be certain of how their cars are going to perform, but he is optimistic of Williams's chances.
"These tyres are very sensitive to track temperature, and usually we have at least one session with representative conditions for what the race is going to be like," he added. "Here we don't, so it's going to be really interesting to see what happens.
"The weather forecast is good for the race, and it has looked that way for a while. So we were very careful not to over-react to the conditions in qualifying.
"We have got a very strong car in dry conditions, and we go into the race with a reasonable degree of confidence to have a good day."