Kamui Kobayashi: Top 10 would've been 'easy' for Sauber in dry German Grand Prix qualfying
| | |
| --- | --- |
| By Pablo Elizalde | Saturday, July 21st 2012, 14:13 GMT |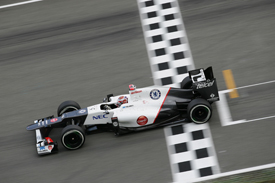 Kamui Kobayashi is convinced he would have easily qualified in the top 10 for the German Grand Prix had it not been wet during the grid-deciding session.
The Sauber driver made it into Q2 without having to use the medium tyres, but he struggled for pace when the rain hit the track during the second qualifying segment.
In the end Kobayashi had to settle for 13th position.
"It is a pity because I'm sure in dry conditions we would easily have been in Q3, as we had a very good pace," said Kobayashi. "I even refrained from using soft tyres, and the lap I did on the medium compound was good enough for Q2. But then in the wet we didn't make it.
"In dry conditions my car is really good. In the wet it is a lot better than it was on Friday when I struggled badly. We found something wrong and did some changes, but it is still not completely right."
Team-mate Sergio Perez, 12th in qualifying, also believes his team would have enjoyed a much stronger day had it not rained.
"It is such a shame," said Perez. "It looked really promising for us until the rain set in. After I changed to soft tyres I ended up second fastest in Q1.
"Then we went out late on intermediates in Q2 and I was stuck in traffic. I had cars in front of me, but could not back off as there were some behind me as well."