Yvan Muller leads the way in WTCC first practice at Curitiba
| | |
| --- | --- |
| By Peter Mills | Saturday, July 21st 2012, 13:05 GMT |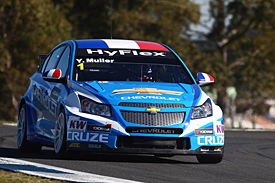 Reigning champion Yvan Muller set the fastest time in the opening World Touring Car Championship free practice session at Curitiba, as the factory Chevrolet team occupied the top three positions.
Team-mate Rob Huff, who trails Muller by 18 points in this year's drivers' standings, was second quickest, three tenths adrift of the Frenchman's 1m22.689s benchmark.
Huff enjoyed a three tenth advantage over Friday pacesetter Alain Menu in the third Cruze, but the Briton anticipated the circuit to evolve considerably through the day.
"We're happy with the balance," said Huff, "but the track temperature increased by six degrees in that session alone and we expect it to be even warmer this afternoon. It was quite slippery as well. I think the track staff have relayed some wet turf around the kerbs on some apexes, and as people have cut corners or run wide they have brought some of it onto the track."
Gabriele Tarquini repeated his Friday test position of top non-factory Chevrolet driver in fourth in his SEAT, but was pessimistic about his chances of bridging the gap to the works cars.
"I think the Chevrolets are always quicker in every condition, but now that they are stopping, I don't think we'll see them playing any politics so much. That has finished. We are 40kg less than them here and seven tenths down - I think that's their potential."
Michel Nykjaer again impressed in his second day in the Bamboo Cruze. Drafted in to substitute for team's ill regular driver Pasquale Di Sabatino, Nykjaer finished the session in fifth.
The second Bamboo Cruze of WTCC rookie Alex MacDowall took sixth, ahead of Hungaroring reversed-grid victor Norbert Michelisz.
The Zengo Motorsport team is running a single BMW for Michelisz, as regular second driver Gabor Weber elected to skip the trip to Curitiba.
Pos  Driver             Team/Car             Time       Gap
 1.  Yvan Muller        Chevrolet            1m22.689s
 2.  Rob Huff           Chevrolet            1m22.992s  + 0.303s
 3.  Alain Menu         Chevrolet            1m23.228s  + 0.539s
 4.  Gabriele Tarquini  Lukoil SEAT          1m23.328s  + 0.639s
 5.  Michel Nykjaer     Bamboo Chevrolet     1m23.563s  + 0.874s
 6.  Alex MacDowall     Bamboo Chevrolet     1m23.649s  + 0.960s
 7.  Norbert Michelisz  Zengo BMW            1m24.124s  + 1.435s
 8.  Darryl O'Young     Special Tuning SEAT  1m24.247s  + 1.558s
 9.  Aleksei Dudukalo   Lukoil SEAT          1m24.277s  + 1.588s
10.  Mehdi Bennani      Proteam BMW          1m24.325s  + 1.636s
11.  Stefano D'Aste     Wiechers BMW         1m24.330s  + 1.641s
12.  Alberto Cerqui     ROAL BMW             1m24.382s  + 1.693s
13.  Tom Coronel        ROAL BMW             1m24.414s  + 1.725s
14.  Tiago Monteiro     Tuenti SEAT          1m24.572s  + 1.883s
15.  Pepe Oriola        Tuenti SEAT          1m24.610s  + 1.921s
16.  James Nash         Arena Ford           1m25.008s  + 2.319s
17.  Charles Ng         Engstler BMW         1m25.015s  + 2.326s
18.  Tom Boardman       Special Tuning SEAT  1m25.119s  + 2.430s
19.  Tom Chilton        Arena Ford           1m25.216s  + 2.527s
20.  Fernando Monje     SUNRED SEAT          1m26.577s  + 3.888s