Toro Rosso's Daniel Ricciardo counting on wet qualifying for German Grand Prix
| | |
| --- | --- |
| By Edd Straw | Saturday, July 21st 2012, 10:10 GMT |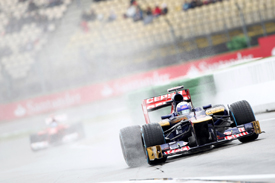 Daniel Ricciardo is hoping for rain to continue into qualifying for the German Grand Prix.
Saturday morning free practice was held in dry conditions, but rain hit late in the session and then became torrential. Weather forecasts suggest that there is a strong chance that it will be wet for Saturday afternoon's qualifying session.
The Scuderia Toro Rosso driver was seventh fastest in Friday afternoon practice, but only 14th on Saturday morning. This leaves Ricciardo hoping for inclement weather to boost his chances of making the top 10 for the first time since April's Bahrain Grand Prix.
"By the looks of it, Sunday is 95 per cent going to be dry, but maybe we can have a good qualifying [in the wet] and try and hang on in the race," said Ricciardo, when asked about his wet weather hopes by AUTOSPORT.
"We are hanging on in there better in the wet than the dry. On Friday, we were more or less there in the wet part of the session and then seventh in changing conditions. So it's looking better than worse.
"In mixed conditions, we seem to be in the better half [of the timesheets]. If I can drive hard and get a good position, I'll be happy."
Ricciardo is unconcerned about driving in wet conditions at Hockenheim because of a relative lack of standing water.
This is despite going off at the Sachs Kurve on Friday afternoon and getting stuck in the gravel.
"The track is slippery, but in terms of aquaplaning and these sorts of things, we didn't experience it. It is quite good for the wets, a safe circuit.
"There are little parts of standing water, but not enough to make the car out of control.
"[On Friday], the last time out I was on inters and the track was pretty dry. We were going to do a practice pitstop but I forgot my braking mark from the wet and braked too late. Luckily, I didn't go into the barrier otherwise I would have felt pretty silly."