Matheo Tuscher claims Formula 2 pole at Paul Ricard
| | |
| --- | --- |
| By Jack Nicholls | Saturday, July 21st 2012, 08:03 GMT |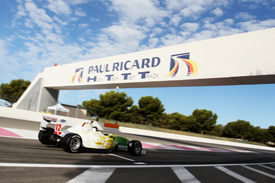 Matheo Tuscher took his third pole position of the season ahead of the opening Formula 2 race of the weekend at Paul Ricard.
With each driver having one set of fresh tyres to use, strategies varied. Christopher Zanella opted to use his at the start of the session, a tactic that gave him the limelight for the first 15 minutes, lapping 1.3 seconds faster than any of his rivals. The track conditions continued to improve, though, so when Zanella's rivals took to the circuit with their fresh tyres later in the session, the Swiss driver was dropped down to fifth place.
It was a duel between Tuscher and Markus Pommer for pole, the two trading fastest times in an enthralling end to the session. Tuscher won out, 0.190s quicker than Pommer - who claimed he lost time on his fastest lap after being blocked.
Daniel McKenzie left it late, but managed to claim third position. The Briton was disappointed not to be on pole position, but felt that the plentiful overtaking opportunities would still allow him to challenge for victory. Luciano Bacheta set myriad fastest sector times, but was unable to link them all together into one lap, meaning the points leader will start fourth on the grid, ahead of Zanella.
Dino Zamparelli was a close sixth place, with Alex Fontana and Mihai Marinescu struggling after their strong practice performances, ending in seventh and eighth respectively. Brands Hatch race winner Kevin Mirocha could not continue his form from last weekend, qualifying ninth, with Plamen Kralev completing the top 10.
Pos  Driver               Time       Gap
 1.  Matheo Tuscher       1m53.023s
 2.  Markus Pommer        1m53.213s  + 0.190s
 3.  Daniel McKenzie      1m53.395s  + 0.372s
 4.  Luciano Bacheta      1m53.430s  + 0.407s
 5.  Christopher Zanella  1m53.588s  + 0.565s
 6.  Dino Zamparelli      1m53.594s  + 0.571s
 7.  Alex Fontana         1m53.688s  + 0.665s
 8.  Mihai Marinescu      1m53.764s  + 0.741s
 9.  Kevin Mirocha        1m53.766s  + 0.743s
10.  Plamen Kralev        1m54.150s  + 1.127s
11.  Hector Hurst         1m54.278s  + 1.255s
12.  Mauro Calamia        1m54.709s  + 1.686s
13.  Axcil Jefferies      1m54.922s  + 1.899s
14.  David Zhu            1m54.977s  + 1.954s