Andreas Mikkelsen dominating Intercontinental Rally Challenge's Sibiu Rally in Romania
| | |
| --- | --- |
| | Friday, July 20th 2012, 20:17 GMT |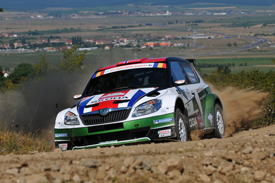 Andreas Mikkelsen is nearly three minutes clear of his Intercontinental Rally Challenge rivals already after a gruelling first leg of the Sibiu Rally in Romania.
The stages' rough surfaces and the level of dust in the air caused carnage during the afternoon's opening loops, and the dust issue scarcely eased even when four-minute gaps were stipulated for the night stages.
Skoda UK driver Mikkelsen stayed out of trouble and calmly pulled out a massive 2m44.1s lead. The reigning champion now looks well set for his first rally victory since the season-opening Azores event.
The Crinti stage produced most of the drama. The first running featured Sepp Wiegand sustaining a puncture, Mathieu Arzeno breaking his Sainteloc Peugeot's suspension, and Patrik Flodin breaking a wheel and then inadvertently delaying legend Francois Delecour. All that allowed Hungary's Gergely Szabo to appear in a surprise second place, until he too sustained a puncture on the second running of the stage, where the dust issues became particularly acute.
By the end of the night, Wiegand was back up to second, with a 24-second cushion over Delecour. Szabo is fourth, and Flodin's recovery drive has taken him from 45th to sixth so far.
Leading positions after SS7:

Pos  Driver                Team/Car              Time/Gap
 1.  Andreas Mikkelsen     Skoda UK            1h06m07.1s
 2.  Sepp Wiegand          Skoda Deutschland    + 2m44.1s
 3.  Francois Delecour     Munaretto Peugeot    + 3m08.8s
 4.  Gergely Szabo         Eurosol Skoda        + 4m17.7s
 5.  Valentin Porcisteanu  Mitsubishi           + 4m48.6s
 6.  Patrik Flodin         Solberg Ford         + 5m33.2s
 7.  Vitaliy Pushkar       Ukraine Mitsubishi   + 6m15.3s
 8.  Marco Tempestini      Skoda                + 6m36.6s
 9.  Edwin Keleti          Mitsubishi           + 6m44.1s
10.  Harry Hunt            iCars Citroen        + 7m50.5s